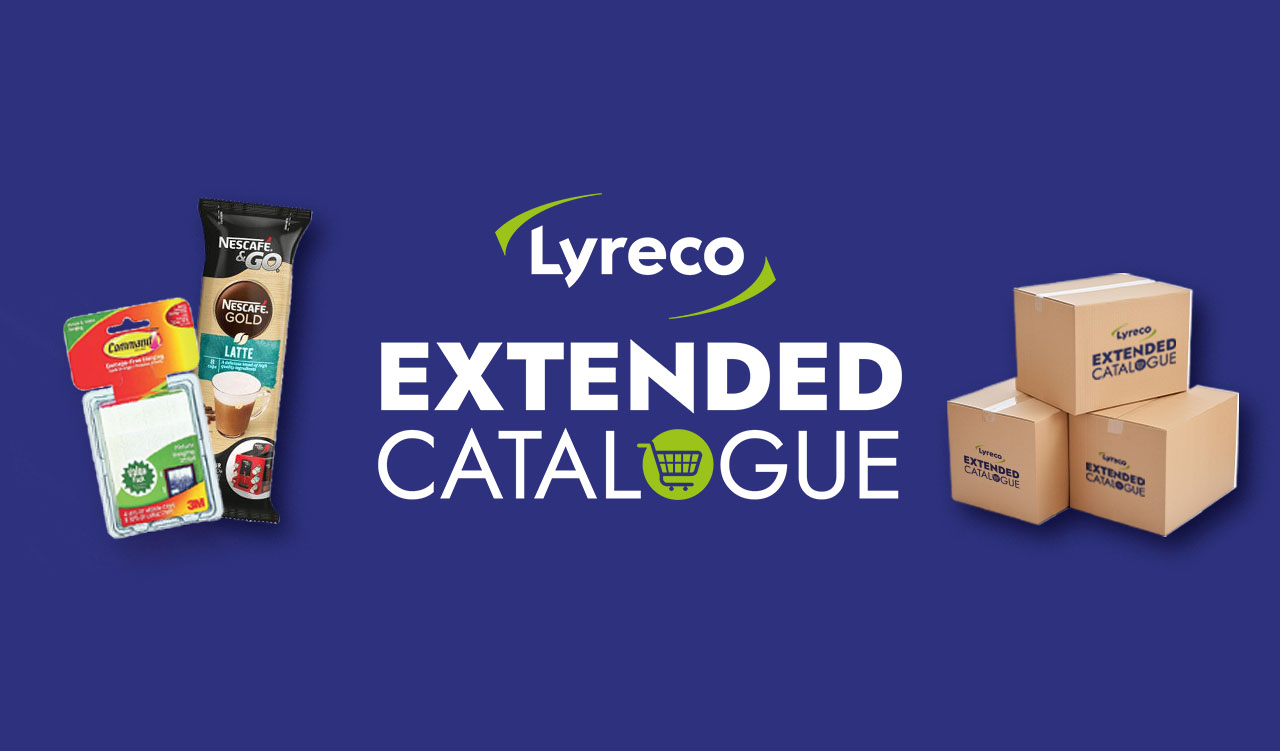 Lyreco Launches Extended Catalogue with 55,000 New Additions
Lyreco is pleased to celebrate the launch of our Extended Catalogue to further support the ongoing needs of our customers.
At Lyreco, we've always strived to be more than just a workplace solutions company. Our mission is to partner with our customers and provide them with everything they need to ensure they have a great working day. Delivered. That's why we're excited to introduce the Lyreco Extended Catalogue to enhance the Lyreco experience. 
diversifying options
In our continuous effort to meet the diverse needs of our valued customers, we're proud to offer an expansive range of products through our Extended Catalogue. With over 55,000 new additions spanning various categories from PPE to office supplies, customers will find a wealth of choices beyond our current core catalogue offerings, including further access to industry-leading brands. 
tailored solutions
One of the hallmarks of our Extended Catalogue is its focus on products that typically fall outside of our WebShop offerings. This expansive selection ensures that customers can quickly and easily find those unique and specialised items to support their organisation's growth and success. 
seamless shopping
The platform harmoniously coexists with our WebShop, providing customers with an intuitive and user-friendly shopping experience that allows them to effortlessly search, smoothly navigate, and efficiently purchase the products they need. 
Our customers drive everything we do. The launch of our Extended Catalogue is a testament to this commitment, offering our valued customers an expanded range of solutions to enhance their workspaces. We are dedicated to providing the tools, products, and services that empower our customers' success, now and in the future.

Andrew Burnett, Product & Services Director – Lyreco UK & Ireland
how it works
The Extended Catalogue is for our UK customers, and an existing account with us is required before the platform can be utilised. To set up an account with Lyreco, visit Create a Lyreco Account – Quickly & Easy.
To begin customers must 'activate' their Extended Catalogue account. This is simple and can be completed in seconds using your existing Lyreco WebShop account login details.
There are two ways in which you can do this:
Option 1:

1 – Log into your WebShop account. 
2 – Visit our dedicated Extended Catalogue page located conveniently via the WebShop homepage.
3 – Click the 'Explore Our Extended Catalogue' button on the page to be directed to extendedcatalogue.co.uk. This will then automatically log you in and you can begin shopping.  
Option 2:

1 – Go direct to extendedcatalogue.co.uk. 
2 – Locate the login page by clicking the person icon.
3 – Log in using your existing Webshop login details to begin shopping.
Ready to explore? Start your journey with Lyreco's Extended Catalogue today. 
Please note: The Extended Catalogue is for UK existing Lyreco customers only. To create an account with us, please visit Create a Lyreco Account – Quickly & Easy.