the impact of poorly designed workspaces
Research shows that UK workers suffer approximately 553,000 cases of work-related musculoskeletal disorders each year (European Agency for Safety & Health at Work). Unfortunately, the basic tools we need to do our jobs can often be the source of pain.
Many UK workers have to use Display Screen Equipment (DSE) regularly (if not continually) to complete tasks. However, inappropriate use of DSE and poorly designed workspaces can cause issues for users, such as fatigue, eye strain and backache. This has a major impact on businesses, increasing the likelihood of illness, reducing productivity and harming staff retention rates.
Display Screen Equipment Assessments are audits to ensure workspaces are adequate to maintain a safe and healthy environment.
They are a legally required risk assessment, to help prevent injuries and ailments such as back, neck and wrist ache in conjunction with display screen usage at work.
Who is responsible for arranging your workstation assessment? It's the responsibility of your line manager and employer to ensure that anyone who uses any form of display screen equipment during work, is protected.
This includes: Mobile phones, laptops and computers, tablets, and any other display screens.
Discover DSE Assessments
Explore our DSE Assessments brochure to learn more, or book a DSE Assessment today.
Our solutions
Lyreco's products and services support you in reducing work-related ill health by providing:
A variety of DSE ergonomic assessments
Ergonomic products selections based on assessment outcomes.
If your workers use DSE (whether PCs, laptops, tablets or smartphones) daily for an hour or more at a time, you are lawfully required to carry out a DSE assessment. This means assessing the workstations your people use – identifying and reducing any risks they present.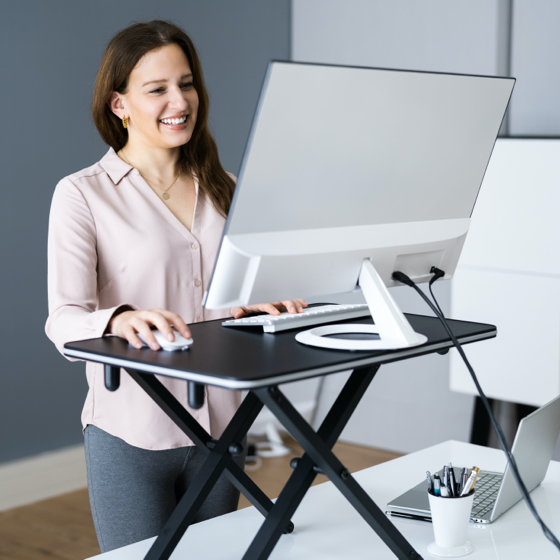 When to carry out assessments
You should carry out assessments at a minimum of every two years, or when:
Setting up a new workstation
Onboarding a new employee
Making changes to an existing workstation.
We provide several routes to completing a DSE assessment and potential issues with your employees' workstations. This includes face-to-face assessments, telephone consultations and online tools for self-assessment.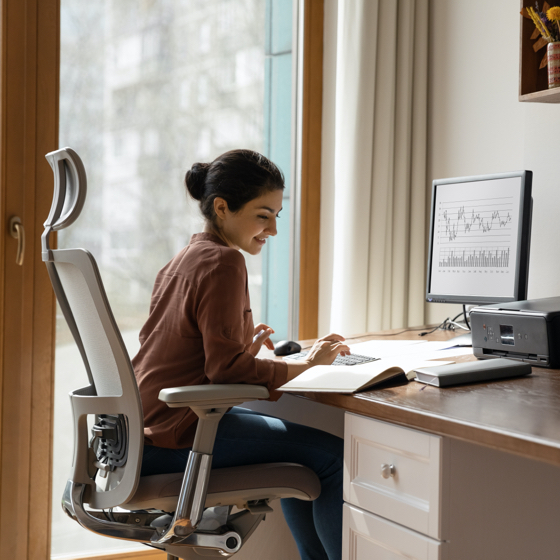 The benefits of DSE assessments
DSE assessments not only reduce the risk of injury, including both long and short term strains and pains – they also provide great benefits to both the employee, and employer…
We have a range of ergonomically-friendly products to support our DSE assessment services including sit-stand desks, ergonomic keyboards & mouses, chairs and foot supports – designed to reduce the strain occurred by repetitive movements.
By ensuring the correct precautions and equipment are in place, you and your team will notice a significant difference on the pain and discomfort you may experience while working with display screens.
According to the European Working Conditions Survey, four in ten workers reported suffering back ache in the previous 12 months. The same number of people also highlighted the muscular issues they have in the shoulders, neck and arms.
By creating a comfortable workspace, centred around good posture and ergonomics, you and your colleagues will notice that with a lack of discomfort, comes an increase of productivity. This is because you're able to work more efficiently, with less strain, and less movements.
Creating a safe, comfortable and ergonomically-friendly workspace, increases the your and your team's wellbeing. Nobody likes feeling pain or discomfort – by eliminating this risk, and using the right equipment, there will be a significant reduction of sick-days, and staff retention will be stronger.
Our DSE Assessment Services
Here at Lyreco we provide several routes to completing DSE assessments to identify and prevent issues.These services include face-to-face assessments, telephone consultations and online tools for self-assessments.
We also provide regular, ongoing support for your business. Our DSE specialists are available for on-site days – sharing DSE advise with you and your teams, visiting workstations and delivering practical demonstrations.
This is a 45-minute one-to-one session designed to identify and help eliminate problems related to DSE activities.
With this assessment, we aim to review and improve the workstation set-up to help alleviate musculoskeletal discomfort and, as a result, improve the well-being and productivity of your employees.
Single: £95 / €110 (Per Person)
Half Day: £350 / €400 (6 People)
Full Day: £595 / €700 (12 People)
This face-to-face assessment deals with more complicated cases requiring deeper knowledge and experience to address the reported problems, generally musculoskeletal, affecting DSE work.
Single: £395 / €468
A full assessment carried out by a trained Lyreco specialist to comply with DSE regulations. This generates a report that highlights issues in relation to the workstation complying with the requirements set out in the DSE regulations and recommends tailored solutions.
Single: £175 / €200 EUR (Per Person)
Our DSE specialists with the aid of information photographs and measurements supplied in advance can safely and efficiently contact individuals by video call (or phone) to review the workstation and working posture of the person and provide advice and recommendations to resolve any issues or improve the situation.
Single: £75 / €90 EUR (Per Person)
An effective way to deliver assessments at scale, our e-learning tools help you provide employees with training in how to carry out self-assessments – spotting their own posture and set-up issues. This is especially useful for supporting the needs of remote workers.
£POA
Providing the next step following self assessment by users, our specialists (following your procedures) manage any needed actions – from consultation via video call to recommendations for workstation, equipment and posture improvements.
Product recommendations after DSE Assessments are provided by Lyreco, free of charge.
book your dse assessment