Nespresso® Professional Coffee Solutions
FIND THE PERFECT COFFEE SOLUTION FOR YOUR BUSINESS
As a business Lyreco are proud to exclusively partner and supply Nespresso® Professional coffee solutions to the office environment throughout the UK and Ireland*.
At Nespresso® Professional & Lyreco, we believe that coffee has a key role to play in the Future of the Workplace. Enhancing the Employee Experience by inspiring tasteful and meaningful coffee moments is at the heart of everything Nespresso® Professional does.
*Excluding London and South East England (postcodes apply)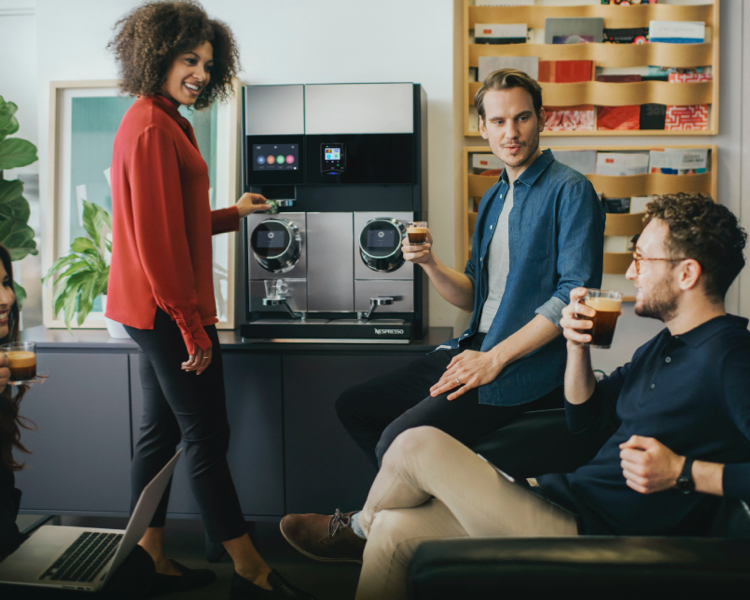 High quality coffee,
high-quality service
Lyreco UK & Ireland are able to offer Nespresso® Professional's unique coffee experience to businesses who are looking to improve their coffee offering, delivered alongside high-quality account management, ensuring you always receive the best quality service.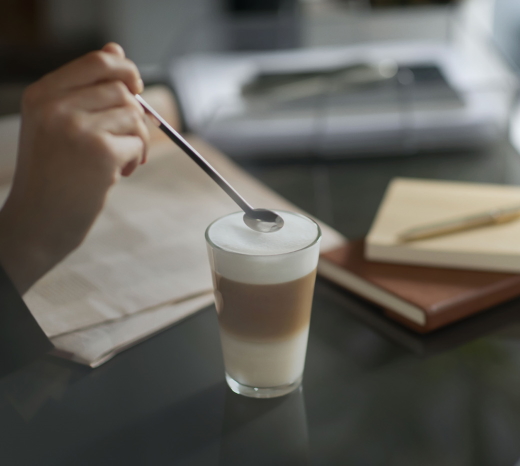 ---
UK employees who take a coffee break at least once a day report higher levels of
mental and physical wellbeing than those who never take a coffee break*.
*Source: Nespresso/ComRes survey of 2,500 employees across the UK, 2017.
of UK employees who regularly drink higher quality coffee at their office feel motivated to give their best at work.
of UK employees agree that having high quality coffee at their office would suggest their employer cares about their wellbeing at least to some extent.
of UK employees surveyed build stronger relationships with their colleagues when having coffee breaks.
Discover more about how perfect coffee moments can enrich your business
Offering quality coffee in the office not only shows you care about the little things, it can create a positive impression of your workplace to employees and visitors alike. Discover more about the benefits, sustainability from bean to cup, and explore our range of machines and premium coffees on our dedicated UK and Ireland websites…
COFFEE
CREATE PERFECT COFFEE MOMENTS
WITH OUR PREMIUM RANGE
Choose from a selection of 14 coffee varieties to satisfy every palate at any time of day. Ristrettos, espressos, lungos or any one of our delicious milk-based recipes can be prepared simply and quickly. Discover more about our coffee range on our UK and Ireland sites.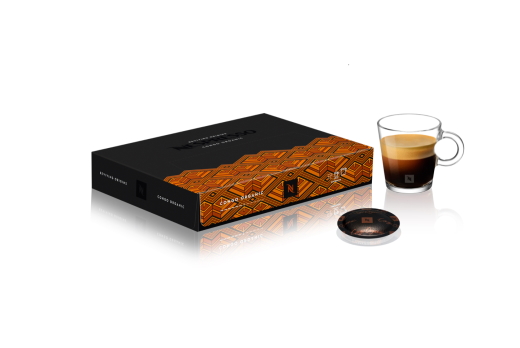 ---
MACHINES
CUSTOMISED SOLUTIONS FOR
ALL YOUR OFFICE VENUES
A range of professional machines to suit your needs. We offer easy, innovative payment options as an integral part of our offer. Discover more about our machines on our UK and Ireland sites.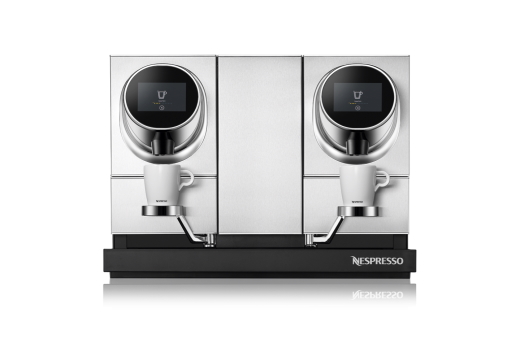 ---
working toward carbon neutrality
When it comes to your coffee's carbon footprint, it's what you don't see that makes the difference.
To reach Nespresso's goal of becoming carbon neutral, they look at the entire lifecycle of a single
cup of coffee to reduce its carbon footprint. For example:
1. How green coffee is cultivated and transported
Cultivating and transporting green coffee accounts for 45% of each cup's carbon footprint*. That's why using a precise amount of coffee in our capsules and promoting sustainable farming practices are key to improving our carbon footprint and helping us reach our goal of becoming carbon neutral.
2. How a cup of coffee is prepared
37% of your coffee's carbon footprint comes from how it's prepared – from brewing to cup washing*. The Nespresso Professional precision brewing system uses only what's needed to prepare a cup of coffee – optimising coffee, energy, and water usage – making it a sustainable way to enjoy coffee.
3. How the coffee is packaged
At 8%*, packaging is only the fourth largest contributor to your coffee's carbon footprint. Plus, when you recycle Nespresso Professional capsules, you further reduce the carbon footprint of your cup of coffee.
*Source: Quantis 2020 Swiss B2B LCA
Start your unique coffee experience
Register your interest below and your new Nespresso® Professional account manager will be in touch.