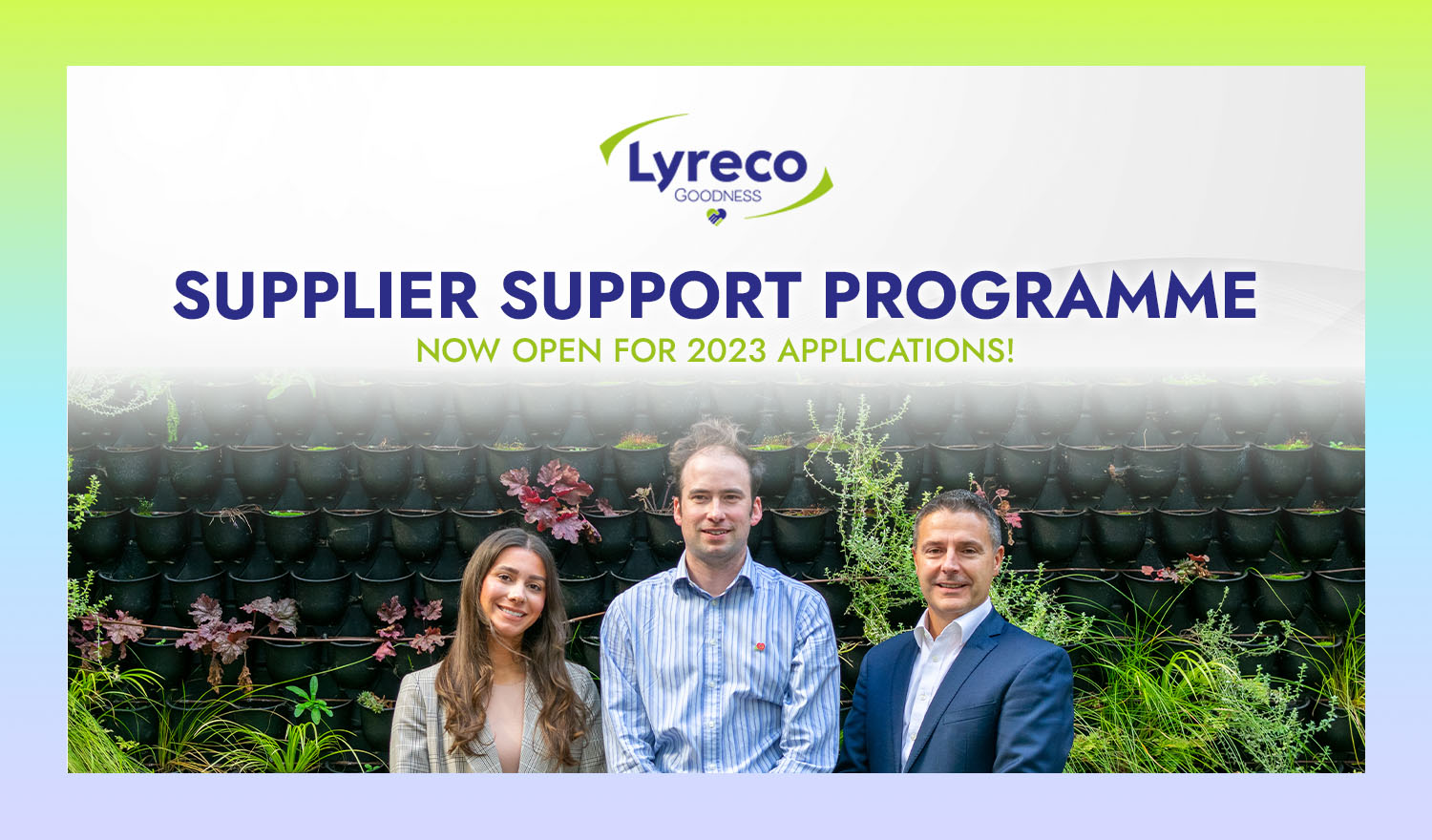 Launching the 2023 Lyreco Goodness Supplier Support Programme in the UK & Ireland
After the success of our award-winning Microbusiness Support Programme in 2021 – which saw ten companies receive support packages totaling £250,000 – Lyreco is relaunching the initiative as the Lyreco Goodness Supplier Support Programme, opening 2023 applications for microbusinesses or social enterprises in the UK or Ireland!
A number of successful applicants will each be offered a support package worth £25,000/€29,000 in business and marketing support, including a bespoke page on the Lyreco webshop, external marketing and communication support, a free catalogue listing of up to 10 products or services, preferred payments days, access to the Lyreco sales force, a dedicated account manager and 12-months of ongoing business support.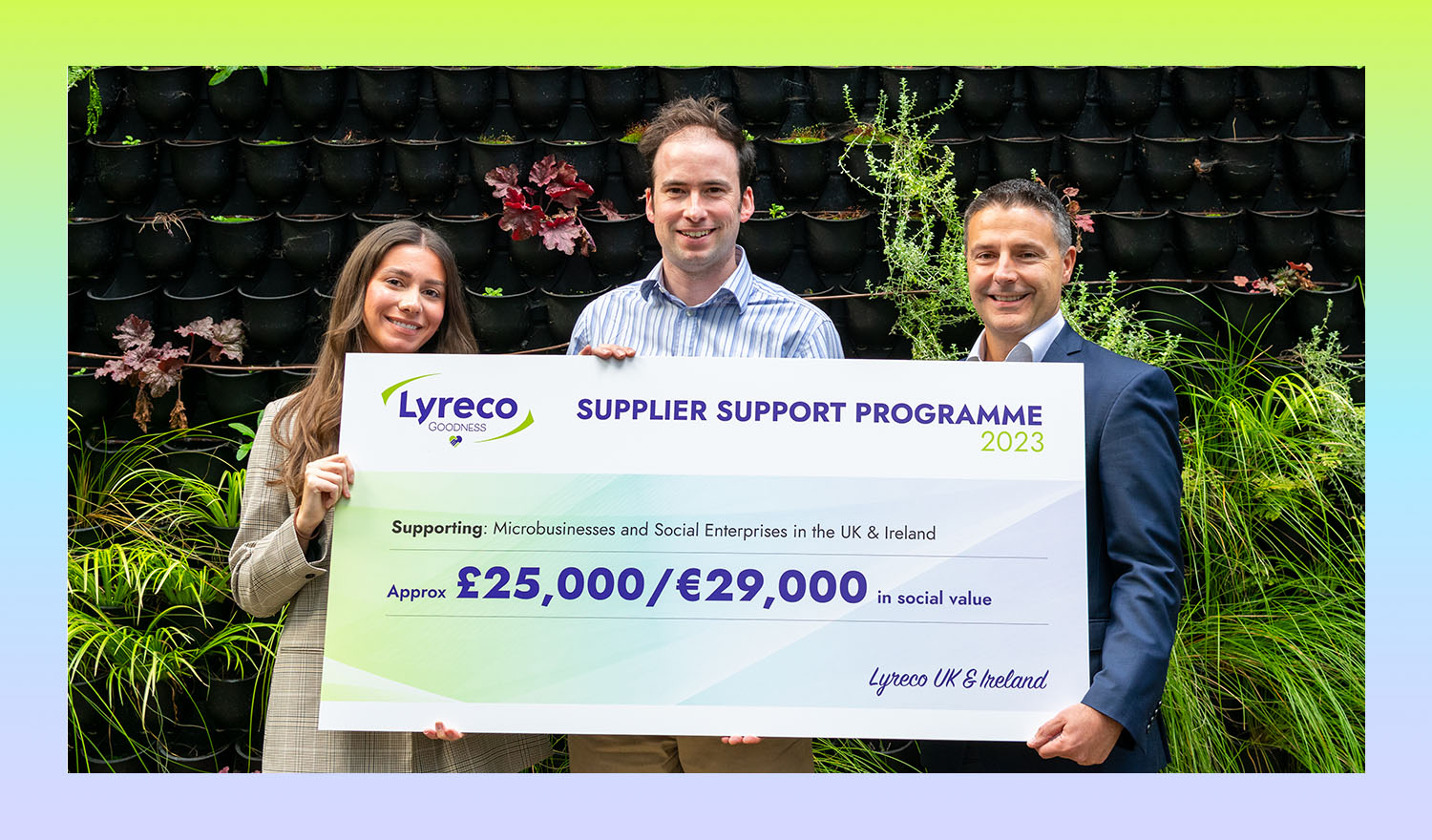 We hope to back ambitious businesses that align with our CSR and environmental credentials and those that provide products and services in a similar field, namely PPE, hygiene, catering supplies, office furniture, workplace technology and general office supplies.
Starting out as a family business, we recognise that microbusinesses and social enterprises need access to support now more than ever. By utilising our resources, knowledge, and experience, we can empower businesses to thrive and grow with a free kick-start in the community and marketplace.
The initiative perfectly aligns with our Lyreco Goodness philosophy, in which the business approaches the planet, our products, suppliers, and people, with social value and sustainability at the centre of decision-making.
Recognised for this effort, the programme was crowned the Best Private Sector Project Award at the 2022 National Social Value Awards.
Since launching our award-winning Support Programme in 2021, we have been able to onboard and work with some great national microbusinesses.

For 2023, we have strengthened both the application and support process and have expanded it to include social enterprises, so we can support a wider number of suppliers with different category solutions that meet our CSR credentials.

All businesses are being impacted by a number of current global issues, from climate change to huge increases in energy prices. That's why it's so important for Lyreco to recognise this and support our national businesses where we can.

Andrew Bryers, Head of Sustainability at Lyreco UK & Ireland, speaking about the launch.
Previous applicant, Jake Elliott-Hook, director of S'wheat, creators of reusable plant-based water bottles, says that the support has helped his business go from strength to strength.
"Lyreco's support programme is a great opportunity for any start-ups who are looking to scale their business and find new business opportunities. The connections we've made since joining the programme have become an invaluable asset to our company. We're thrilled to be a part of it!"
Read more from our 2022 winners:
About The Lyreco Goodness Supplier Support Programme:
The programme supports ambitious microbusinesses & social enterprises in the UK and Ireland motivated by a greater societal purpose. The pandemic has had a devastating impact on many microbusinesses & social enterprises, in turn affecting employment and the resilience of communities. As an essential component of the UK and Ireland economy, Lyreco's programme aims to provide microbusinesses & social enterprises with the support and resources needed to empower them to thrive in the post-pandemic economy with a 12-month package valued at £25,000/ €29,000.