Looking for ways to reduce your single use plastic?
Implement these simple steps to become a greener business
It's common knowledge that single use plastic is one of the biggest contributors to plastic pollution. It now makes up 40% of the plastic produced globally and infiltrates our lives and workplaces daily.
However, you may be surprised by the amount of single use plastic your company regularly uses and even more surprised by how easy it can be to fix it!
Common single use plastics you may be using in your business right now include packaging, food wrappers, bags, bottles, coffee cups, cutlery, straws, cleaning solutions and more.
Avoiding the use of these items in your business and home life is easier than you might think and, with our new dedicated plastic free webpage [1], now is a good time to take up the challenge of reducing single use plastic usage.
Here are our top tips for implementing plastic reduction in your workplace.
1. Start with a waste audit
It might not be glamourous, but an examination of your waste bins can really highlight opportunities for improvement in plastic waste reduction.
By identifying the most common single use plastic offenders in your business, you can start to create an action plan that will make a real immediate impact. Create a simple table and record the waste you find. This will help you identify the 'low hanging fruit' and give you a good place to start.
Providing a range of colour coded recycling bins can also help you shine a light on the issues and help you keep track of high usage single use plastic items.
2. Switch to sustainable workplace solutions
Once you know where the bulk of your single use plastic usage comes from, you can start to look for eco-friendly alternatives. The range of plastic free solutions available is constantly growing and there's never been so much choice in the market.
Sustainable procurement doesn't need to be complicated. Did you know you can switch to green alternatives with the click of a button? Simply choose the Lyreco Webshop 'Go-Green' option and convert your order to eco-friendly alternatives in an instant!
The option will appear in your basket whenever alternatives are available. It's the small button that makes a BIG impact!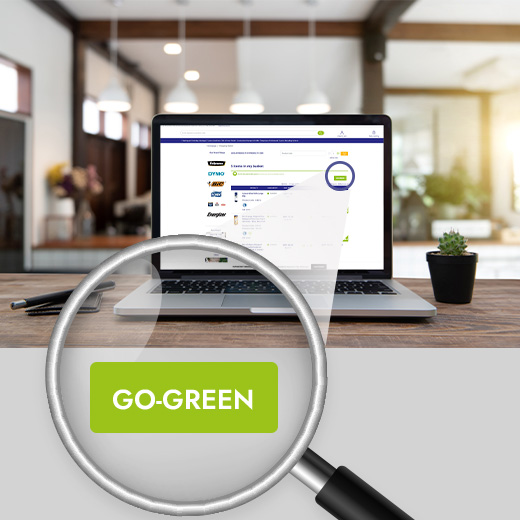 3. Make it easy for employees
You can't control the choices your employees take, but you can help them to make the right ones.
Installing a water cooler in the workplace means that members of staff can refill reusable bottles with cool water, instead of bringing plastic bottles of water into work. Instead of opting for refillable large water vessels, choose coolers that plumb into the mains water supply. Where this is not possible, make use of the recycling service for your 15 litre bottles.
Be sure you provide your visitors with eco- friendly cups, such as the Duni Bio-Degradable [2] option or go one step further with your own branded Plant-based Reusable Bottles [3]. These bottles are crafted only from waste by-products, wheat stalk and bamboo to provide an environmentally friendly water bottle that's durable, user-friendly and gives back to the planet. Plus, for every water bottle purchased, S'wheat will plant a trackable native tree in your business's name while removing 450 ocean-bound plastics from our seas!
4. Create sustainable breakrooms and canteens
One of the most common workplace areas in which single use plastic can be found is the canteen or breakroom. The good news is there's a wealth of widely available alternatives to dramatically reduce your plastic waste!
Let's start with your food packaging, tableware and cutlery. From bagasse plates [4] to compostable forks [5], there is no shortage of compostable, biodegradable and recyclable solutions from which to serve your visitors and employees. If you opt for such solutions, don't forget to provide a compost bin close by and display signage to encourage consumers to dispose of the items and their food waste responsibly.
Everyone loves a tea or coffee break; however, there are a few things you can do to reduce the amount of plastic used in the brewing process.
Instead of having milk delivered in plastic bottles or miniature plastic single use containers, try to source local milk delivered in returnable and reusable glass bottles. Many tea bags also contain plastic, so choose to opt for tea bags that use eco-friendly materials, such as PG Tips tea [6].
If you're looking to provide a premium coffee solution, opt for one with recyclable capsules such as Nespresso Professional. Nespresso Professional capsules are made from aluminium which can be remelted and reused to make new products time after time.
And let's not forget those straws!! Have you tried the latest bamboo innovation [7]? They're highly sustainable, strong, and durable so there really is no reason to continue using plastic drinking straws!
5. Last and not least, consider your cleaning regime
So now you've cleaned up your waste, its time to clean up your workplace. Often forgotten, cleaning supplies can be among the worst offenders for plastic consumption!
To reduce the amount of plastic you consume, avoid using highly diluted chemicals and opt for super concentrated solutions instead.
When considering your washroom facilities, look for products which allow you to return the container for refilling, such as the Amplify Goods Unscented Hand Wash.[8] This product is Circular-enabled and can be refilled in bulk, as well as being vegan, paraben, triclosan and SLS free.
Switching to Biodegradable Wipes [9] is another simple substitution that can keep your workspace clean and plastic free.
How can Lyreco help?
At Lyreco, we understand that today's businesses should have a positive and sustainable impact on the planet. That's why we provide workplace solutions to support a responsible approach to the workplace.
We offer a range of 5,500 products that are GREAT FOR THE PLANET, 849 of which are defined as compostable/degradable.
We also provide a range of recycling solutions, from plastic water bottle recycling to Nespresso Coffee Capsules.
To find out more, visit Creating Greener Workplaces – Lyreco UK and Ireland
Exploring our range of solutions from Ireland? Visit the links below.
---
[1] Duni Bio-degradable Green Paper Cup 240ml – Pack of 50 (lyreco.com)
[2] Microbusiness Page – S'wheat – Lyreco Ireland
[3] Duni Bio-degradable Fibre Plate 260mm – Pack of 50 (lyreco.com)
[4] CPLA Compostable Fork- Pack of 100 (lyreco.com)
[5] PG Tips Tagged Enveloped Tea Bags – Pack of 200 (lyreco.com)
[6] Cheeky Panda Bamboo Straws White – Pack of 250 (lyreco.com)
[7] Amplify Goods Unscented Hand Wash 5L (lyreco.com)
[8] Pack of 80 Medisanitize Universal Biodegradable Wipes (lyreco.com)