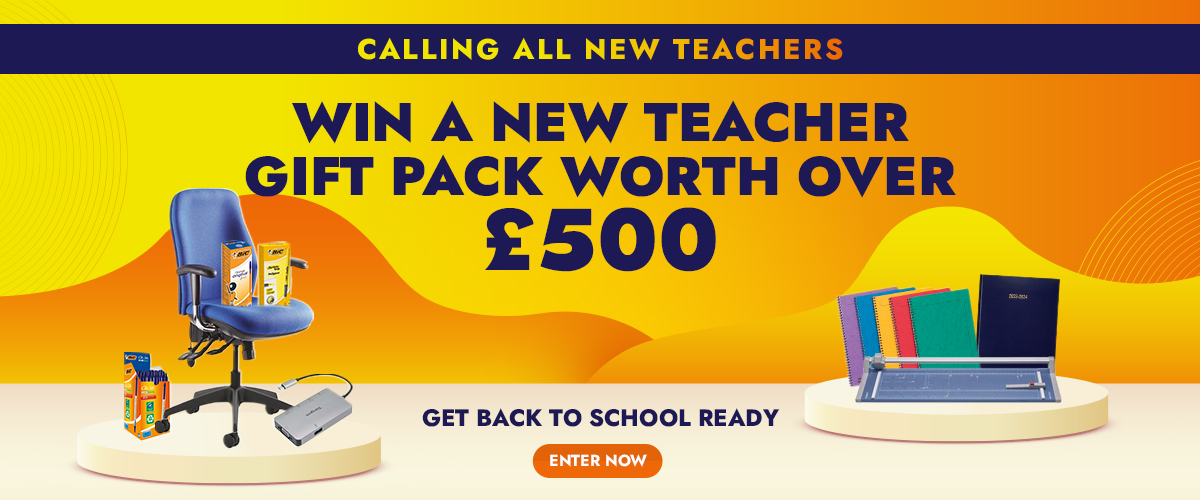 Get ready for the new school year with lyreco
Are you a passionate, dedicated new teacher ready to embark on an exciting educational journey? We understand that this is an incredible time for you, and we want to celebrate your enthusiasm and commitment to shaping young minds!
To mark the release of the latest Education Catalogue: May Edition we are giving you the chance to win an exclusive Teacher Gift Bundle Competition, designed with you in mind.
This is your chance to win a fantastic selection of resources that will make your classroom the envy of everyone
What's Included:
Our prize bundle includes everything you need to create a thriving classroom.
REACT DELUXE HIGH BACK OPERATORS
BIC Ecolutions Clic Stic Ball Pen Blue – Box of 50
BIC Orange Original Fine Ballpoint Pens Fine Point (0.8 mm) – Blue, Box of 20
BIC Highlighter Grip Yellow Chisel Tip Pen – Box of 12
Lyreco Teacher's Lesson Planner A4 – Blue
Europa Notemaker Notebooks A4 Assorted Colours – Pack of 10
Targus Universal Docking Station
Dahle 556 A1 Professional Trimmer
HOW TO ENTER
Fill out the entry form below, to be in with a chance of winning.
Our New Catalogue
Showcasing a handpicked selection of the year's most notable highlights, new brands & education-focused product ranges view our new Education Catalogue.
We are excited to collate the highest-quality educational products designed to support teachers and learners. Ranging from timeless classroom staples to pioneering technological solutions, our solutions are handpicked to foster an engaging, inspirational learning journey, while upholding the crucial principles of sustainability. You can find over 180 new products, our new SEN range, and over 306 sustainable products inside.