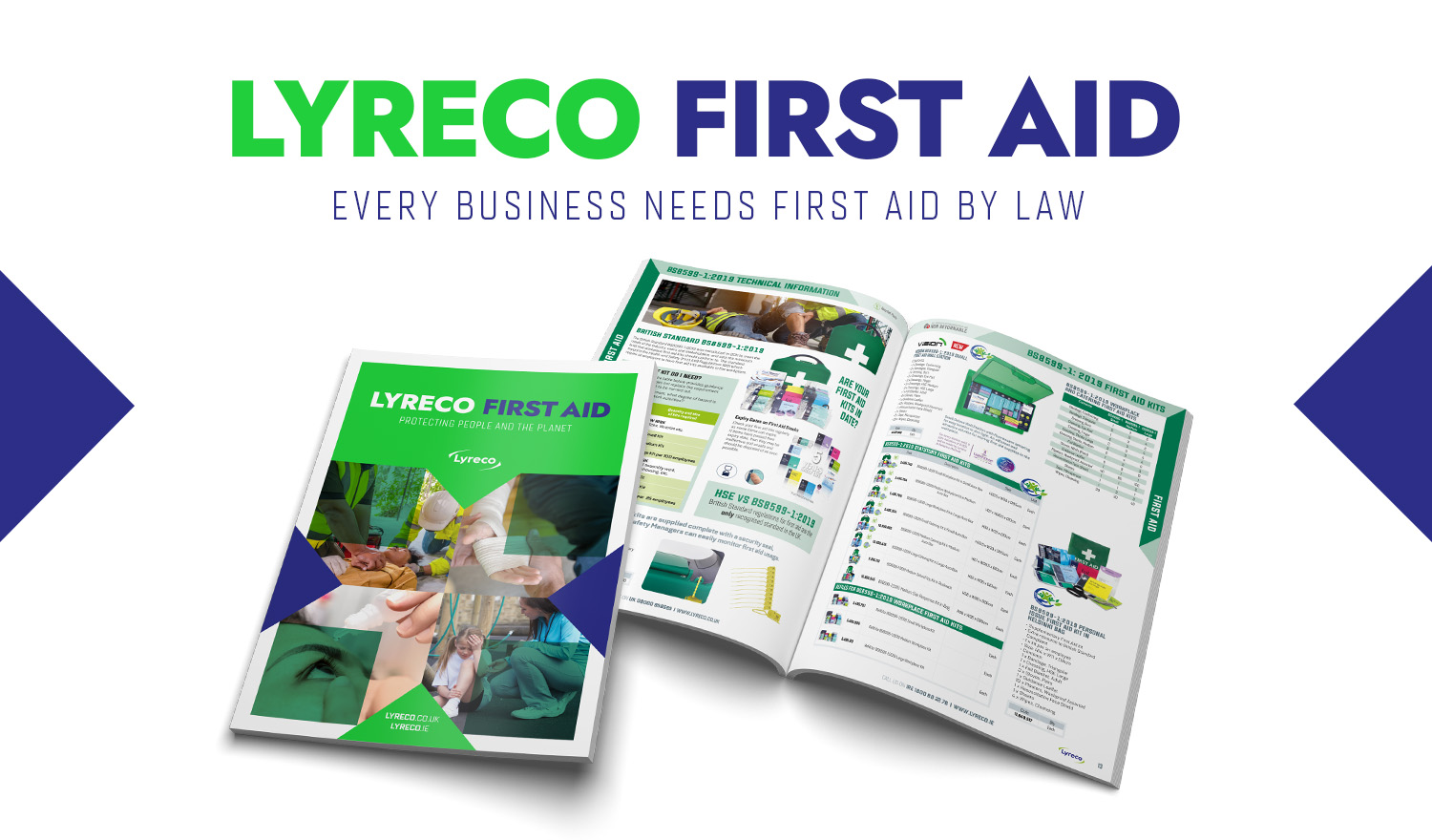 Introducing our First Aid Brochure. Available Now.
Lyreco is proud to launch our brand-new First Aid Brochure. A one-stop shop to make the workplace safer.
Our first aid range is a core offering that sits within our safety category, a category Lyreco is continually developing to meet the needs of the modern workplace, whether that's an office, warehouse, construction site, or your vehicle.
LYRECO AND RELIANCE WORKING TOGETHER TO MAKE THE WORKPLACE SAFER
Safety is a market we consider ourselves a specialist in, with the ongoing growth in this category from £1.3m/€1.5m since its launch in 2014 to £35m/€40m in 2021, whilst ensuring we are always working with the right partners that align with our Lyreco Values.
See what our First Aid partner, Reliance Medical have to say about our NEW brochure:
"Reliance Medical are proud of our partnership with Lyreco to provide innovative products for the catalogue that focus on quality and sustainability.
We have worked closely with Lyreco to produce a range of first aid solutions in tune with the needs of the modern workplace – from offices, the factory floor and the building site to the vehicles that connect them.
"Together with Lyreco, we are committed to making the workplace safer. We aim to increase the accessibility of first aid when and where it is needed, whilst reducing the impact on our planet." Jack Thompson MBA, Sales Director Reliance Medical Ltd
THE IMPORTANCE OF FIRST AID
First aid is critical to protect your workforce and ensure you comply with health and safety legislation.
Having the correct procedures and equipment in place provides every person with the opportunity to save lives, making first aid an incredibly important category for our customers.
Employers are required to provide adequate and appropriate equipment, facilities, and personnel to ensure their employees receive immediate attention if they are injured or taken ill at work. This is in accordance with the Health and Safety (First-aid) Regulations 1981. These Regulations apply to all workplaces, including those with less than five employees and the self-employed.
WHY BUY SAFETY FROM LYRECO
Lyreco can supply the right products and solutions to ensure a safe working day. As the European leader in the distribution of workplace solutions, Lyreco customers are reassured that market-leading safety brands are available for delivery when their workforce needs them. Lyreco has over 6000 safety products ready to order online 24/7 and delivered locally by our Lyreco vans as sustainably as possible.
BSIF ACCREDITED TEAM
Our Team of 20 'BSIF Safe Supply' accredited PPE specialists are available to support our customers in making the right product choice. We have earned a reputation built on quality and collaboration, working alongside our customers to improve employee safety, increase cost savings, reduce waste in landfills and support sustainability goals. We have also been commended at the Annual Safety Awards for Service and Solution and were a SHE-nominated Health & Safety team for 2022.
NISO ACCREDITATION
Lyreco also holds the NISO accreditation in Ireland. This supports organisations in taking a proactive approach to health and safety and reducing the number of fatalities and injuries that happen in Irish workplaces each year.
PROTECTING PEOPLE AND THE PLANET
We are proud to have produced a safety range that focuses both on quality and sustainability. Protecting our planet whilst protecting people will always be at our core, making Lyreco your responsible partner for PPE and Safety products.
We are focused on growing a great range of sustainable products and services for our customers and currently have over 550 safety products that are classed as 'Great for People' or 'Great for Planet'.
To order a printed copy, go to our UK or Ireland webshop and use the quick order tool or simply add it to an existing basket using the below code.
Product Code: 15932329