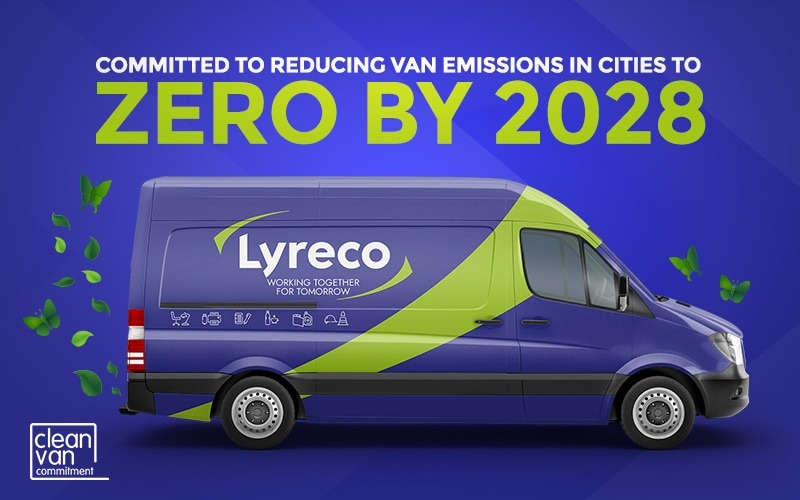 Lyreco UK & Ireland Joins the Clean Van Commitment
Our dedication to sustainable practises continues to shine through, as Lyreco UK & Ireland officially join the Clean Van Commitment (CVC); a government-backed, public pledge to reduce van emissions in cities to zero, by 2028.
A Hazard to the Environment:
Vans are the fastest growing vehicle type in this country[1], which is likely due to how easily they can manoeuvre UK cities for logistical purposes. But with van usage on the rise, what are the long-term effects going to be on the environment?
The answer certainly isn't set in stone. As always, the future of environmental impact lies with us and if we continue to see the use of vans increase, without controlling the potential emissions, we will continue to contribute to the cataclysmic effects of climate change.
A Hazard to Health:
Besides the damage that vehicle emissions cause to the environment, they can also have detrimental effects to human health. Typical vehicle emissions include nitrogen dioxide, among other substances, which is believed to be related to a number of respiratory and cardiovascular conditions[2].
When Global Action Plan UK spoke with young people in the borough of Tower Hamlets, it became clear how much of a negative impact air pollution has on day-to-day life.
The negative impacts of van fleets are definitely something to be concerned about; which is why companies are urged to commit to schemes, such as the CVC, to reduce their effects on the environment.
A Positive Future
Lyreco has implemented a number of initiatives in recent years to try and tackle these issues:
In 2009 Lyreco UK & Ireland was one of the first workplace supplies solutions that invested in electric vans with the acquisition of 2 "Modec ZEV" electric vans for our Tottenham Regional Distribution Centre. However they are not operational any longer.
In 2014 TomTom satellite tracking systems were provided to all company vans, which allow continuous driving behaviour monitoring and increase fuel efficiency.
Our van fleet is updated every 3 years with the latest technology available in the market.
Since 2013 we have reduced our fuel / delivery over 15%.
We are currently trialling cargo bikes for our deliveries in central London.
We have trialled electric vans and we are continuously monitoring market evolution to be ready to switch to electric vans as soon as possible.
Our Quality, Sustainability & Safety Manager, who worked towards our inclusion on the scheme is excited for what the future holds for our fleets – "By signing the Clean Van Commitment, Lyreco makes a clear statement to reduce carbon emissions and mitigate climate change but also to tackle clean air in cities which is the cause of thousands of deaths in the UK annually[3]"
With our name on the list for the Clean Van Commitment, you can be sure to see further improvements in the years to come, so make sure you're following our social media accounts for future news.
[1] https://www.globalactionplan.org.uk/clean-air/clean-van-commitment
[2] https://assets.publishing.service.gov.uk/government/uploads/system/uploads/attachment_data/
file/411756/COMEAP_The_evidence_for_the_effects_of_nitrogen_dioxide.pdf
[3] https://www.nicswell.co.uk/health-news/air-pollution-kills-40-000-a-year-in-the-uk-says-report#:~:text=What%20is%20the%20issue%3F,public%20health%20in%20the%20UK.