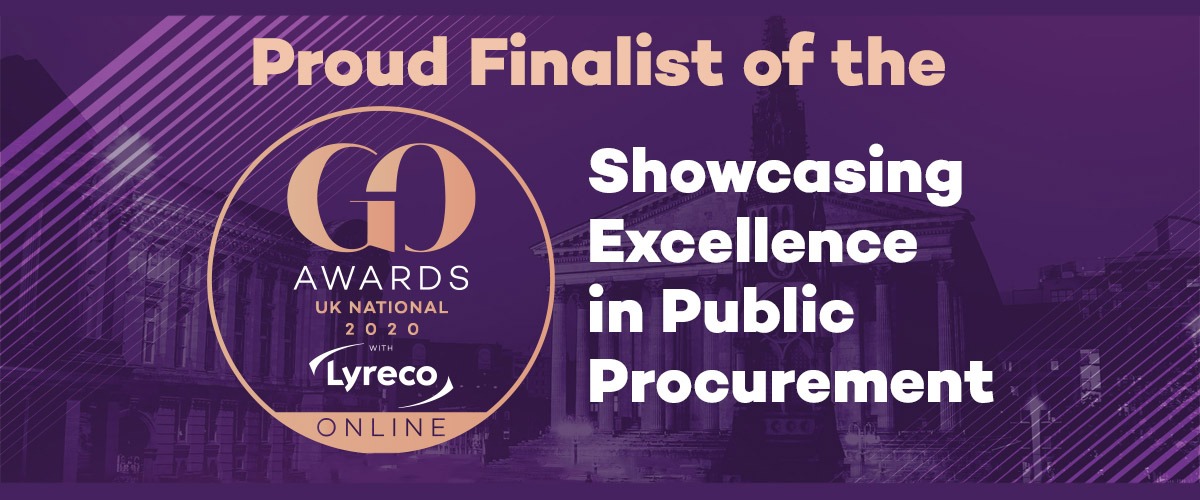 Lyreco UK recognised at UK National Go Awards Online 2020
The 17th of July saw the UK National GO Excellence in Public Procurement Awards 2020 take place, following the postponement of the event in April due to the COVID-19 pandemic.
The GO Awards focus on recognising innovative procurement practices across the UK so it was fitting that the event organiser, BiP Solutions, took the bold decision to run the Awards ceremony online for the very first time.  With all of the challenges faced in delivering effective and high-value public services, now is absolutely the time to recognise and showcase procurement's role.
Lyreco UK was delighted to be a finalist in the category for Best Service – Medium and Large Organisations  with regards to our innovative Cymru Copier Scheme
Cymru Copier Scheme: During a period of price volatility in the paper market, Lyreco and NPS, developed an innovative collaborative approach to source a more sustainable option for customers.
Lyreco liaised with a few stakeholders to develop the Cymru Copier Scheme, negotiating an 18-month price hold on the 100% recycled paper. They also developed through the Better Jobs Closer to Home initiative a partnership with Elite Paper Solutions Ltd; a Welsh Social Enterprise who support disabled and economically disadvantaged people across Wales. EPS Ltd collects the confidential paper waste across their three sites, and divert it in part back to the paper mill, creating a closed-loop back to use service.
By moving to recycled paper Welsh customers are achieving environmental benefits (savings of 83% water, 72% energy in manufacturing, 100% wood reduction and 53% on overall CO2). In addition, these benefits are supported by a price reduction from the standard budget A4, with savings in excess of 22% providing an additional incentive to customers.
As part of this scheme, Lyreco was able to create more than 25 job opportunities and provide direct funding for a student to take a Professional Welsh degree course at Bangor University aimed at promoting and safeguarding the Welsh language. As well as supporting numerous local Food Back schemes.
Lyreco has also embedded a policy to support local welsh businesses, whereby they ensure that all servicing and repair to the logistics fleet is performed by local businesses and, wherever possible, by SME's close to their operational bases.
Diane Brooks, Framework Manager Wales for Lyreco, said:
"Supporting environmental and social value initiatives is at the heart of everything Lyreco strives and stands for. Through the single source framework agreement via the National Procurement Service, we have been able to seamlessly align with the key pillars of the Wellbeing of Future Generations Act and been able to deliver real change and tangible benefit to both Welsh public sector organisations and the local communities they serve.
We are managing considered purchasing decisions and structural realignment that is helping public sector customers move towards more sustainable outcomes, which also support and underpin effective circular economies in a far more joined-up way.  The social value of the new employment opportunities and educational support we have provided is also a vital and positive contribution and is central to the strong partnership we have created in Wales."
Grahame Steed, Lead Judge for the GO Awards Programme, said:
"Right now, procurement is front-page news with public service delivery at the forefront of economic recovery. That is why this year, it was more important than ever for our GO Awards to take place, and once again recognise the people and organisations making great procurement happen.
"Given that innovation is a key driver for change in public sector procurement, we took inspiration from the very people we are celebrating, through delivering a full Awards programme in an online and interactive environment for the first time ever; thanks in no small part to our many sponsors and partners.
"Congratulations to all our finalists including Lyreco UK, for collectively showcasing the best in UK procurement."
Lyreco UK is extremely proud of our commitment to the Public Sector, to find out more about Lyreco you can learn more here.