Learn more about the team
Shipra Mehra
PPE Business Development Manager
Nespresso Business Solutions – Regional Account Manager
I joined Lyreco over a decade ago and have since received three promotions and taken two maternity leave breaks in between.​
I have been in the role of a Business Development Manager – PPE (Personal Protective Equipment) since 2018; I mainly work alongside the Small Medium Business and Mid-market customers to help them find suitable product ranges for their PPE requirements and workwear solutions. I thoroughly enjoy my role because I know that I am making a true difference and positive impact by helping businesses to create a safer workplace for their employees. ​
Reflecting on my personal experience, Lyreco is a great company to work for. The Senior Management Team has always supported my personal and professional development – getting the help and support I need has always been a phone call or email away. ​
I am really proud to be a part of a company that not only cares for its people but also contributes to sustainability and giving back to the community. ​
I love to spend time with my family planning holidays, exploring and visiting my family in India; I have recently travelled to Portugal, Spain, and the USA. I enjoy hiking and walking across beauty spots in the UK and soaking in the tranquillity. I also like to cook Indian cuisine, host parties and have feasts for festivals such as Diwali, with my speciality being Tandoori Chicken!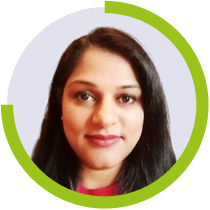 Ready to join us?
Search our current vacancies for find your next role.