For Enhanced Grip & Performance
Choose Mechanical Gloves
Mechanical gloves help protect workers against a variety of hazards that could lead to injury in the workplace, depending on the environment, role, and sector.
In construction, glazing and metal fabrication, an individual may experience cuts, lacerations and crushing caused by sharp edged, abrasive, or heavy materials. Hand fatigue, Dermatitis, burns, and skin or nerve damage are also consequences of the wrong solution when working with oils, heat, cold, and constant vibrations. Which is why it's imperative to select and provide the most appropriate mechanical gloves for the specific application.
Selecting a glove with the wrong features or benefits for the specific task can be as dangerous as wearing no hand protection at all as it can allow for complacency or a false sense of security against the risks associated with their work or potentially even make conducting the task impossible when asked to wear the gloves provided.
Discover more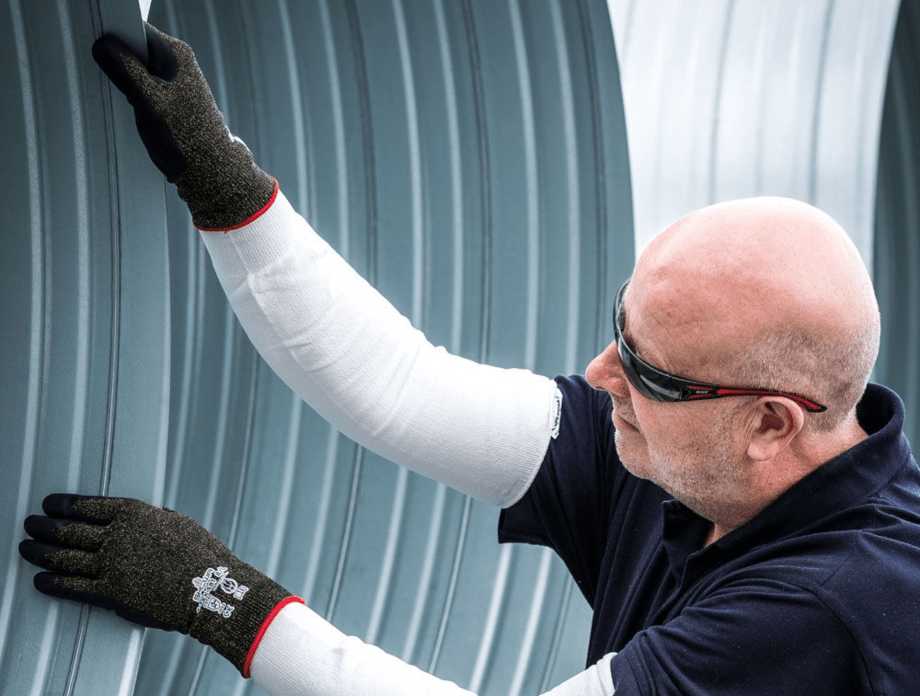 Comfort
Comfort in hand protection is essential, especially when wearing gloves for a prolonged period – if the gloves are too tight, ill-fitting, uncomfortable or irritating to the wearer there is an increased risk of workers either not wearing gloves or removing it when at work, which exposes them to the risk of injury.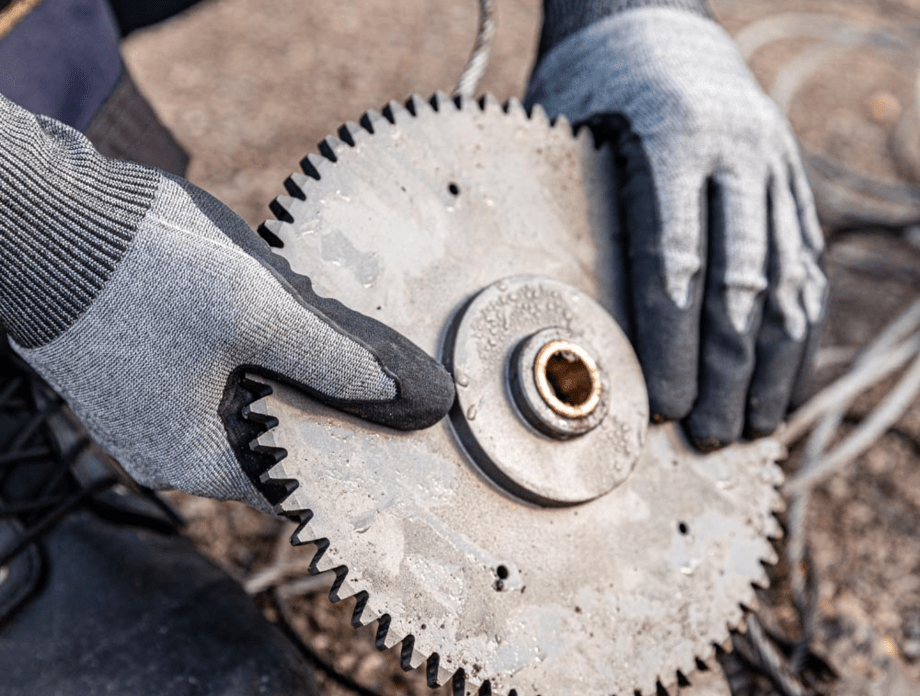 Grip Performance
The grip performance provided by a glove is equally important. The type of coating applied to mechanical handling gloves can determine how well the gloves will perform from a grip perspective – a glove without the correct grip performance can increase the risk of injury.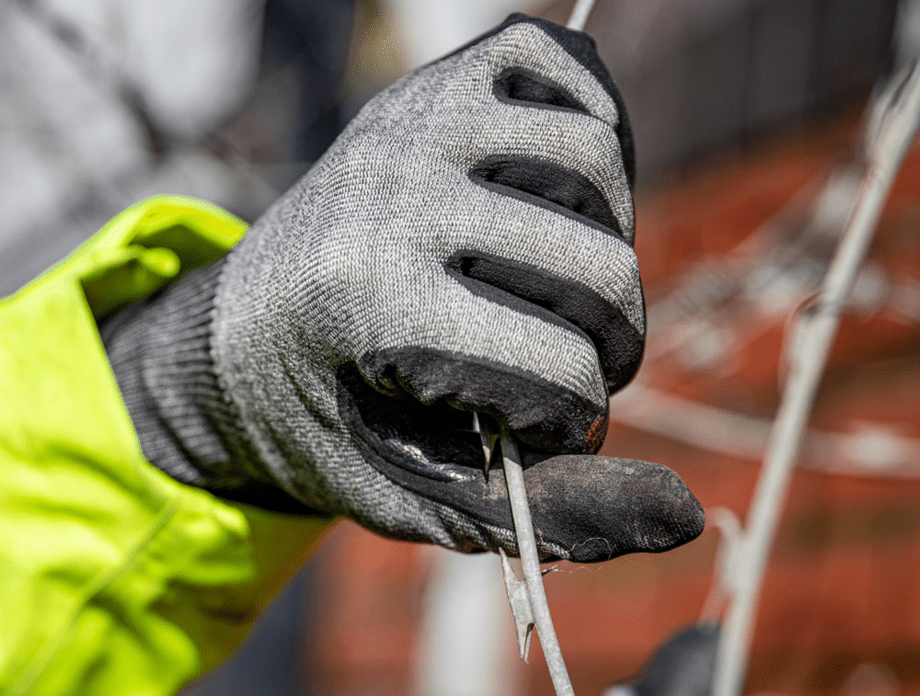 Cut Performance
Compliant to EN 388:2016 standard, this standard requires characteristics of the glove, such as abrasion resistance, cut resistance, tear strength, puncture resistance and impact protection are tested and rated accordingly.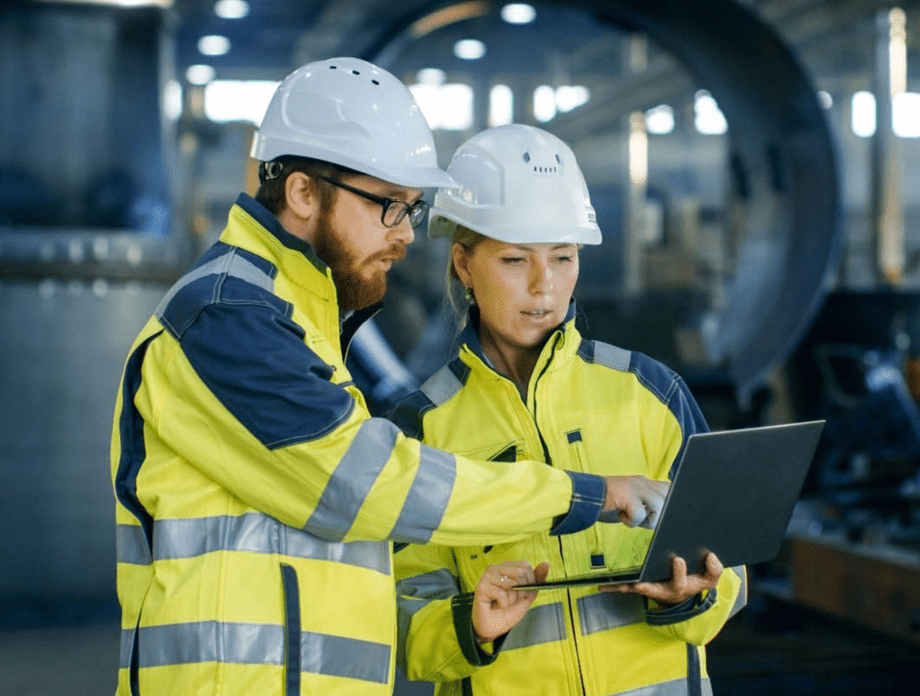 Standards
EN 388:2016 standard gives an indication of which gloves have the appropriate level of protection against the mechanical risks you will encounter in your working environment. Conduct a risk assessment to identify the type of gloves required for a particular task.
Did you know…
0
People with Skin Problems
An estimated 16,000 people each year, that worked in the last 12 months, had skin problems they regarded as caused or made worse by work.
0
New Cases of Hand Arm Vibrations Syndrome
There were 300 new cases of Hand Arm Vibrations Syndrome in 2021.
Source: HSE
Standards & Markings
This standard defines the general requirements for most types of protective gloves. These requirements include:
Glove construction
Ergonomy
Dexterity
Innocuousness
Product marking and packaging information
Sizing
Water vapour transmission and absorption
Electrostatic properties
The EN 388:2016 standard gives an indication of which gloves have the appropriate level of protection against the mechanical risks you will encounter in your working environment.  Identifying the most appropriate type of gloves to use for a particular task can be achieved by conducting a risk assessment, where you examine the hazards present in the workplace and identify what protection each worker will need in order to safely perform the task.
Compliance to this standard requires characteristics of the glove, such as abrasion resistance, cut resistance, tear strength, puncture resistance and impact protection are tested and rated accordingly. In conjunction with the EN 388:2016 pictogram below, four numbers and one, or three numbers and two letters, will be displayed. These numbers and letters along with the EN 388:2016 shield indicate the performance levels of the glove.
Abrasion Resistance
The glove materials is subjected to abrasion by a sample of sandpaper under a determined level of pressure. The protection level is indicated on a scale of 1 to 4 depending on the number of turns required for a hole to appear in the material. The higher the number, the better the resistance to abrasion.
Cut Resistance – Coup Test
In this test a knife is passed over a sample of glove material until it cuts through. The cut protection level is rated by a number between 1 and 5, where 5 indicates the highest cut protection. If the material dulls the knife during this test, the cut test ISO 13997(TDM test) will be performed instead giving a truer cut performance rating.   In order to avoid confusion and to reduce cost on a test that is largely no longer considered, in many instances when releasing to market new gloves are not tested under Coup Test and so an X is used to replace the 1 – 5 score to indicate no Coup Test rating.
Tearing Strength
The force required to tear the glove material apart is measured. The protection level or tear strength is indicated by a number between 1 and 4, and as with the Abrasion test 4 indicates the strongest glove material.
Puncture Resistance
This test determines the amount of force required to puncture the material with a tip. The protection function is indicated by a number between 1 and 4, and as with the Abrasion and Tear tests 4 indicates the strongest glove material.
Cut Resistance – TDM Test ISO 13997
If, as mentioned in the Coup Test explanation above, the knife used in the Coup Test gets dull, the TDM Test ISO 13997 shall be performed instead. The result is given by a letter, A to F, where F indicates the highest level of protection. If any of these letters is given, this method determines the protection level instead of the coup test. If an X is displayed instead of an A-F this test was not performed.
ISO 13997:1999 – Determination of resistance to cutting by sharp objects
An alternative cut test recommended for determining the cut protection offered by a glove. Shall be used in EN388:2016 for cut protection gloves where the cut material dulls the cutting knife during Coup testing. A knife cuts with constant speed but increasing force until breakthrough of the cut protection material. Level of protection is given in Newton, the force needed for cut through at 20mm cut length. (Highest performance level F = 30 Newtons) See below performance levels assigned to each letter with some suggested applications and Industries.
Impact Protection
If the glove offers an impact protection, this information is given by the letter P as the 6th and last character. If no P is shown, no impact protection is claimed. 
EN 511:2006 is a general standard designed to be used for any glove which claims protection against cold environments.
Testing to EN 511:2006 includes mechanical requirements based on the abrasion and tear resistance tests in EN 388 and there are flexibility tests for coated materials and for gloves intended to be used in environments below -30°C.
The standard includes two specific tests for assessing a gloves thermal insulation. These tests are for Convective Cold and Contact Cold.  The gloves Permeability to Water is also assessed as part of the EN 511:2006 standard.
Convective Cold – This test is carried out by placing the glove on an electrically heated hand and measuring how much power is required for the hand to remain at a temperature of between 30°C and 35°C when it is placed in a controlled environment. The glove is then awarded a score between (0 and 4).
Contact Cold – This test which measures thermal insulation when in contact with a solid object. The test involves the glove materials being placed between metal plates, which are at different temperatures. The measured temperature drop across the test specimen is then used to calculate its thermal resistance and is awarded a score between (0 and 4).
Permeability to Water – Unlike the cold tests the water penetration test provides a simple pass/fail result. To determine water permeability, the glove is submerged in water for 5 minutes. If the glove retains its permeability, then it passes with a Level 1 rating, while the gloves that fail and allow water to permeate through, receive a Level 0 rating.
The EN 511:2006 performance of an approved protective glove will be displayed as per the below example.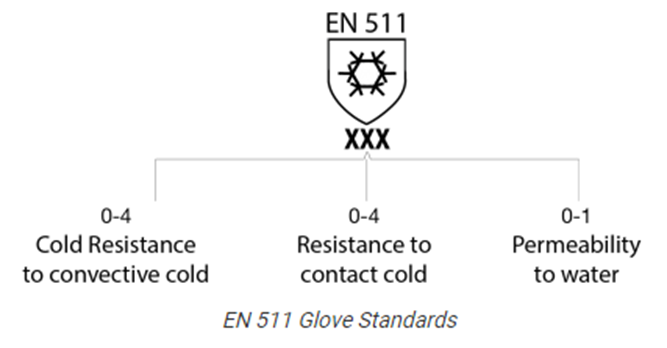 Protective Gloves Against Thermal Risks (Heat and/Or Flame).  The EN 407:2020 superceded the previous EN 407:2004 Standard. In the revised EN 407:2020 Standard two pictograms are used to distinguish between gloves resistant to flame and gloves not resistant to flame. Both pictograms may not be used at the same time.
An overview of the main changes are illustrated below: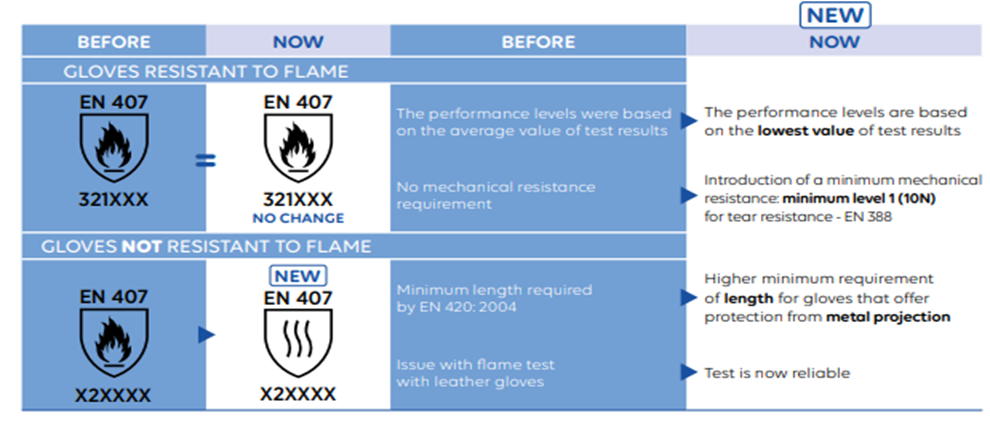 The numbers shown below the pictogram indicates the gloves performance for each test in the standard. The higher number the better performance level. An X indicates that the protection level isn't claimed.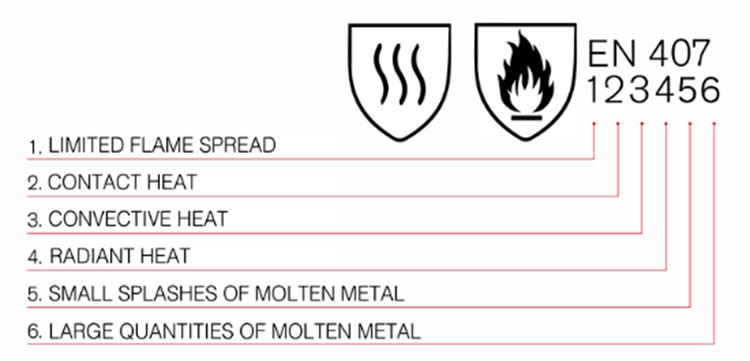 Discover Mechanical Gloves
Explore Mechanical Gloves from Lyreco, supplied by some of the biggest brands across PPE & safety.
You'll find a range of products marked as sustainable via our Sustainable Selection methodology. The selection methodology is assessed by SGS and based on 3 criteria – People at Work, Planet, and Community by Lyreco. By shopping these products, you're making a more socially & ecologically responsible safety procurement option.
Our Safety Brands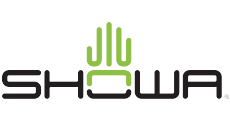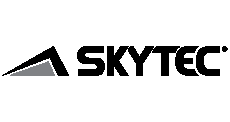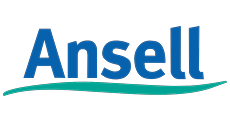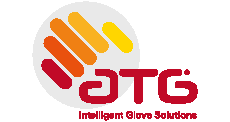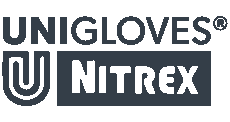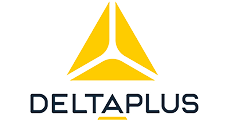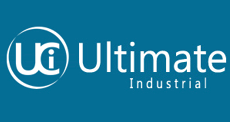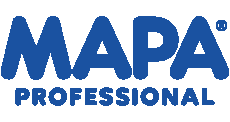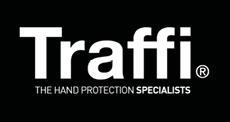 PU Coated Gloves
Polyurethane, also known as PU, is the softest, lightest, and most flexible coating choice.
A PU coating offers a durable, dexterous, and tactile finish to a glove which makes it a popular choice for comfort and grip. PU coated gloves are also highly breathable and ideal for dry grip applications where hands could get warmer, with their dexterous nature making handling small parts easier.
PU is also good in lighter oil conditions and can be suitable in various working environments.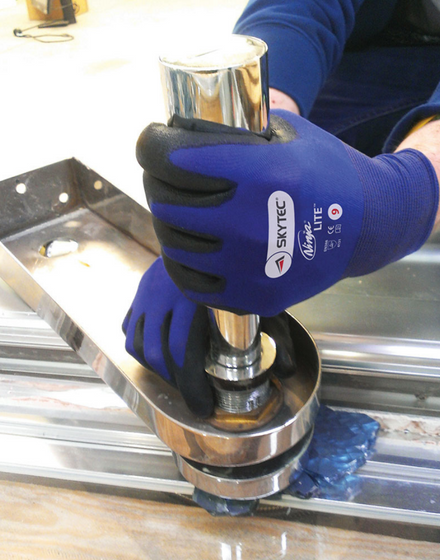 Double Dipped Nitrile Coated Gloves
Double dipping Nitrile makes a glove more durable whilst also increasing the level of liquid and abrasion resistance. The coating provided by the initial dipping of the glove creates a waterproof inner layer that repels oil to keep hands dry.
The second dipping procedure provides the glove's outer surface with a more effective contact with the gripped object by limiting the amount of liquid ingress.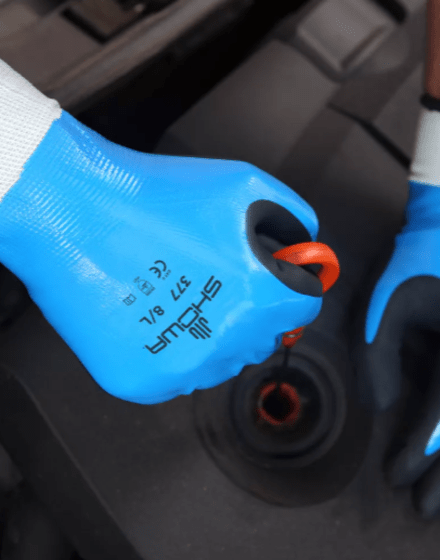 Latex Coated Gloves
A significant advantage of natural rubber or latex gloves is that it offers good elasticity and stretch attributes along with good abrasion resistance. It provides the best overall grip in dry conditions when compared against other coatings, especially when it has been enhanced with a textured latex palm which further enhances grip performance.
Conversely however, natural rubber/latex gloves are not breathable and some users experience an allergic reaction to it.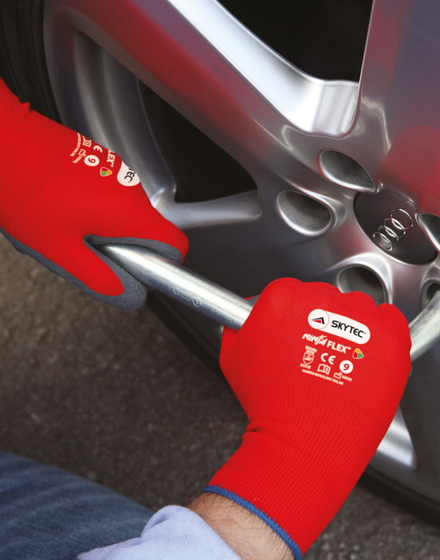 Staysafe PPE
Laundering
Staysafe laundering can break down the cell walls of bacteria, pathogens, and viruses. Around 80% of gloves and PPE sent to Staysafe are suitable for re-issue, saving 14.7 tonnes of CO2e for every tonne of re-used PPE.
Find out more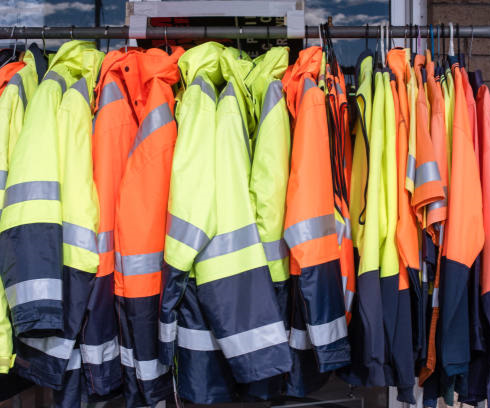 27.03.23
Globus Group Hand Protection Programme
Mechanical Gloves
Discover the 6 steps to Bespoke Hand Protection from Globus Group.
27.03.23
The Applications & Coatings of Mechanical Gloves
Mechanical Gloves
Understand the different coatings of a mechanical glove, and how these coatings are preferred for…
27.03.23
Skytec Redeem: Eco-Friendly Hand Protection Solution
Mechanical Gloves
The Skytec Redeem is a multi-purpose glove that has been engineered using recycled fibres, and…
23.03.23
Unigloves – Corporate Social Responsibility
Mechanical Gloves
Unigloves develop relationships that make a positive difference – their core values are the building…
23.03.23
The Importance of Hand Protection: By Unigloves
Mechanical Gloves
Unigloves share key insights and advice designed to help guide you through the main points…
9.03.23
How Ansell Creates Nitrile Gloves: Presented by Ansell
Mechanical Gloves
1:56 minutes – Ansell prides themselves on the craftsmanship and manufacturing processes that go into…
9.03.23
Why Wearing Hand Protection is Important: Presented by Ansell
Mechanical Gloves
1:05 minutes – Did you know 70% of all hand injuries were to individuals who…
9.03.23
What are the Risks to your Hands in the Warehouse?
Mechanical Gloves
0:32 minutes – Understand the risks associated with not wearing hand protection when working in…
9.03.23
Wearing the Correct PPE in Hot Environment
Mechanical Gloves
2:01 minutes – Wearing the correct PPE and Safety gear, as well as having appropriate…
9.03.23
The Importance of Hand Protection to Mitigate Injuries
Mechanical Gloves
1:08 minutes – Understanding the importance of hand protection and how it can mitigate the…
8.03.23
A Masterclass in Hand Protection: Presented by ATG
Mechanical Gloves
Learn how to protect your workers from serious cut injuries, while keeping them as comfortable…
8.03.23
Understanding Misconceptions about Leather Gloves
Mechanical Gloves
2:03 minutes – Understand the misconceptions about leather gloves, from features to performance of the…
8.03.23
Presenting HyFlex Gloves by Ansell
Mechanical Gloves
0:41 minutes – Introducing HyFlex Gloves by Ansell. Learn about the features, performance capabilities &…
8.03.23
Understanding EN 388 for Mechanical Gloves: By Ansell
Mechanical Gloves
2:59 minutes – Understand the legislation around EN 388, how Mechanical Gloves are tested to…
2.03.23
Understanding Chemicals for Cleaning Professionals: By Ansell
Mechanical Gloves
1:47 minutes – Chemicals can present a hazard to cleaning professionals when working. Understand how…
2.03.23
AnsellGUARDIAN – Consultation Service
Mechanical Gloves
0:51 minutes – With an AnsellGUARDIAN assessment, their team of dedicated experts will visit your…