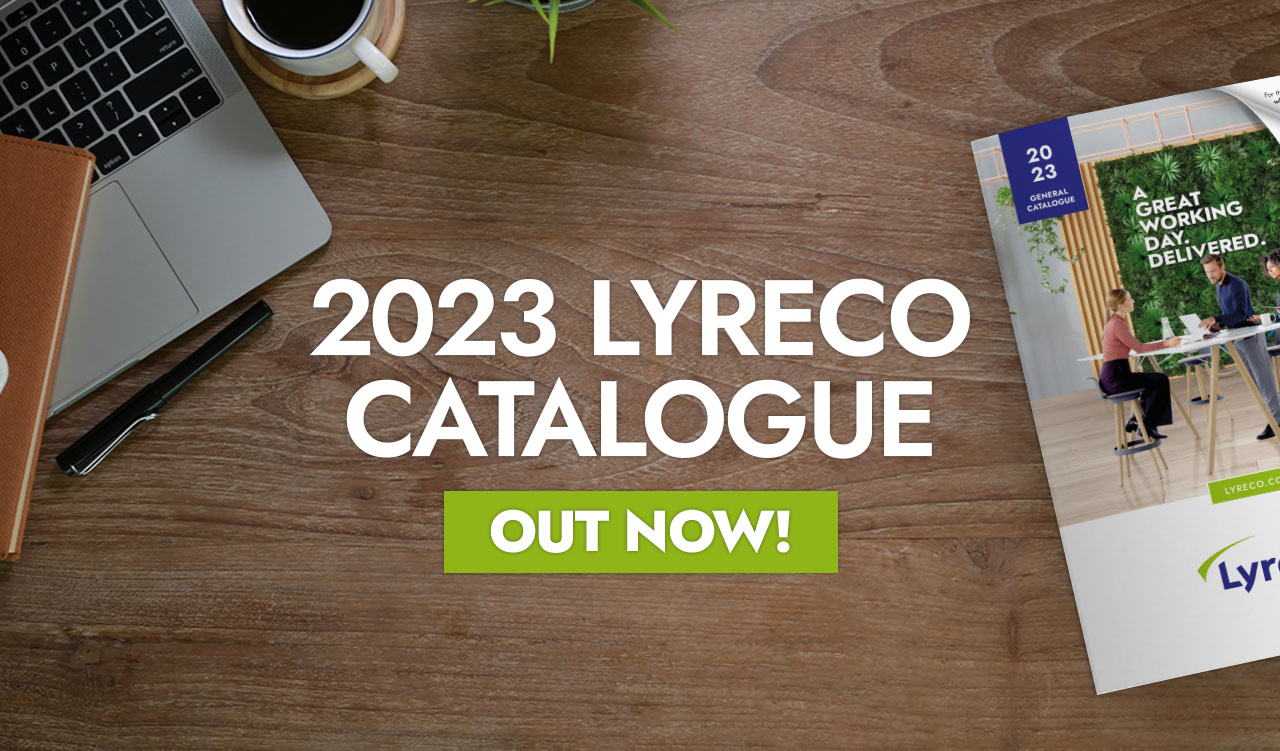 Introducing The Lyreco Catalogue for 2023
We are proud to announce the launch of our 2023 Main Catalogue.
Our journey in 2022 led us in many directions, from increasing our focus in key product areas including releasing our dedicated Safety, First Aid, Education, and Hygiene catalogues. We launched our overarching strategy; Lyreco Goodness and we were thrilled to make impacts on a Carbon Reduction Plan and Sustainability goals. The 2023 catalogue encompasses our progress and refocuses our sights for the future, to remain your partner in delivering not only a great working day but better outcomes for people and the planet.
Because accompanying you every day means offering you solutions that are increasingly adapted to your needs while respecting people and the planet, our catalogue continues to be made using sustainable materials and is 100% recyclable contributing to the protection of the planet.
Filled with a variety of easy-to-use features, the Digital Catalogue is complete with clickable product codes – taking you directly to our webshop and allowing you to add to your order with ease.
SO, WHAT'S NEW?
For our 2023 catalogue, we have carefully selected over 10,000 products consisting of some of the most famous worldwide brands such as HP, NESCAFÉ, 3M, Durable, Energizer, Dickies, Tork and many more.
We have introduced some fantastic new ranges and brands including Tony's Chocolate (16170813) and Brita (16170629) within our Catering Category. Smart Store Storage Boxes (16160339) and Rey Paper (16169818) to enhance our general office product offering. Plus, a new range of sit-stand desks from Elev8 (16174782) and new brand Posturite (13.630.391) added to our furniture category.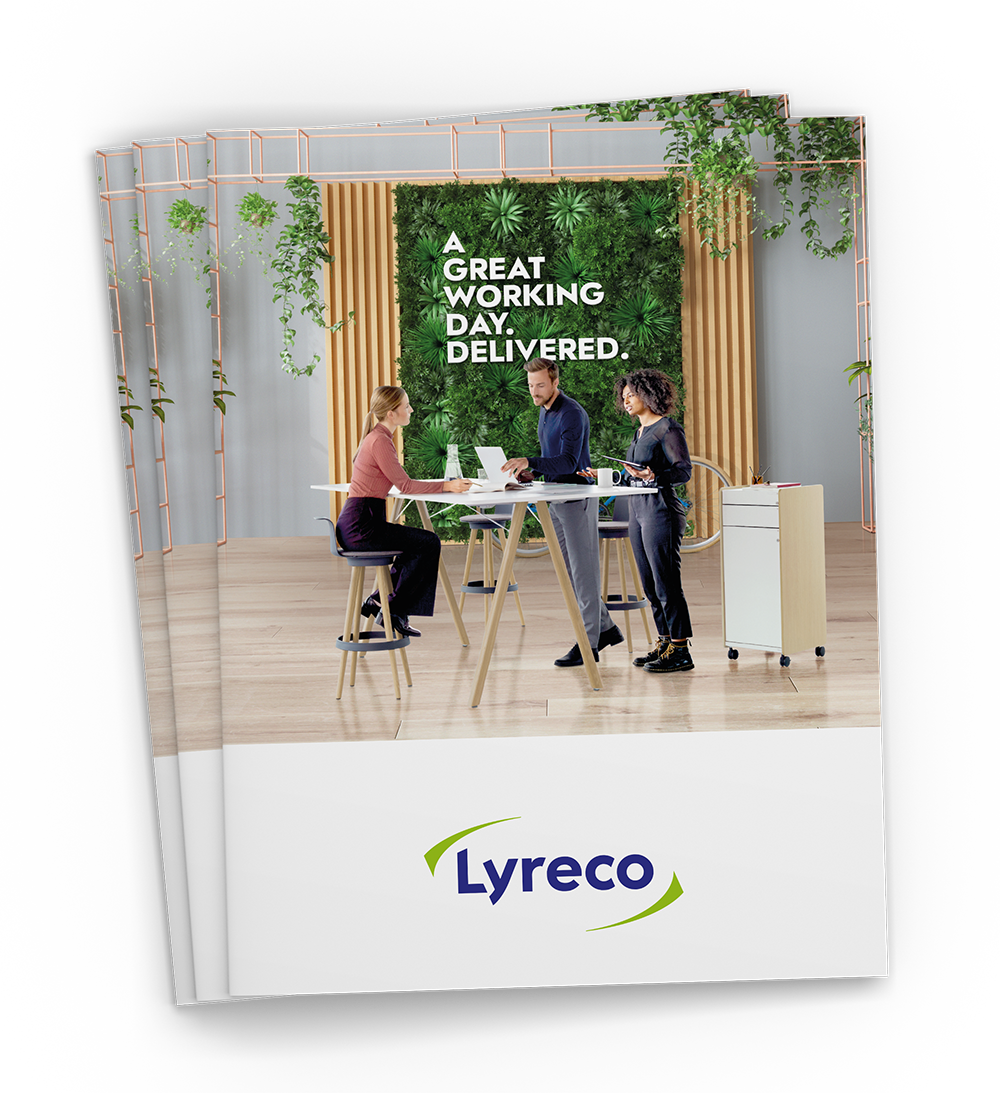 2023 has also seen the introduction of our dedicated reverse safety catalogue. The launch of our new Safety reverse brochure cements our dedication to our growing safety category. You can shop over 1,299 new PPE products including new brands such as MSA which provide world-recognized Helmets known for comfort, quality, and durability (16175136) and BlackRock Safety Shoes, a non-safety occupational style, Trainer that protects the foot against objects that penetrate from below with Blackrock's UK HSL GRIP 4 rated HexaGrip sole (16177873).
With 49% of all new products in the catalogue found in the safety category and more than 743 classed as sustainable via the new selection methodology, you can discover personal protective equipment that's fit for purpose, high quality, certified, and environmentally responsible in the 2023 catalogue.
The Nespresso Professional catalogue range has now moved after the Catering section and still contains a wide range of Nespresso Professional machines and accessories.
PROVIDING YOU WITH MORE WAYS TO SHOP RESPONSIBLY
Since 2012, Lyreco has utilised the 'green tree' logo to indicate products considered sustainable. This symbol was reviewed in 2021 and replaced with two new icons: Great for People and Great for the Planet.
This year, we have reviewed our methodology process with the wider business to greater understand our sustainable offerings by introducing our Supplier Assessment and Product Assessments to create Sustainable Selection by Lyreco. This new assessment methodology is clearer and closer to our long-term sustainable strategy, which is accessed every year by SGS and based on 3 criteria: Planet, People, and Community.
Find out more about our Lyreco Sustainability Selection methodology and the criteria for each seal.
The 2023 catalogue provides you with even more opportunities to shop responsibly by showcasing over 2,500 new products and over 3,900 products classed as sustainable. You can shop these products by looking out for the symbols in the catalogue and on Webshop. Moreover, GO GREEN by selecting the button in your basket to convert your order to eco-friendly alternatives in an instant!
By purchasing these products, you are helping to make a difference in your community and wider society.
RECYCLING YOUR 2022 LYRECO CATALOGUE
Through a simple, streamlined recycling process we can work together to reduce the negative impact on the environment by ensuring all Lyreco catalogues are recycled as efficiently as possible.

Simply add the product code 99.977.059 to your basket when you next place an order or ask your Account Manager to do this for you. From here your old Lyreco Catalogue will be collected upon delivery of your next order.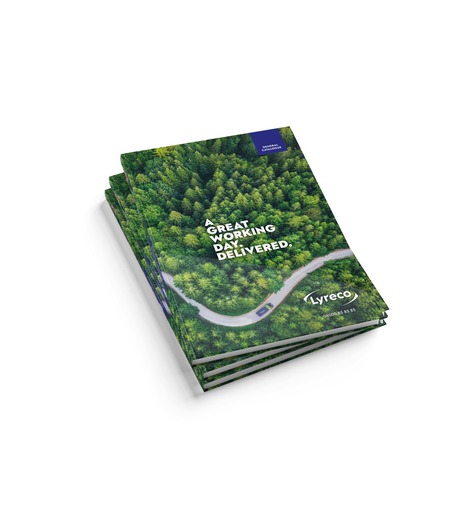 Discover more with your Lyreco Catalogue for 2023
Explore 10,000 products and over 3,900 sustainable products that meet our Planet, People, and Community by Lyreco criteria.