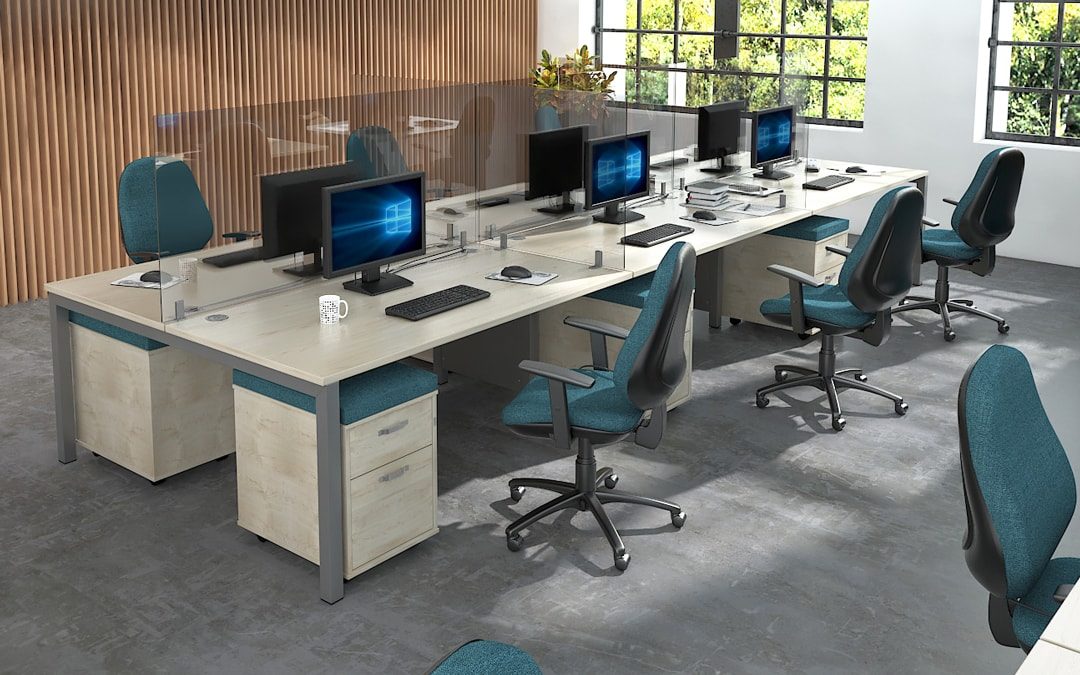 Implementing social distancing in the workplace
Thinking back to the start of 2020, social distancing would not have been a term many of us were particularly familiar with. Now, and only halfway through the year, it's become a global way of life.
As we look towards the immediate future, in order to protect the health of our employees, our customers and our families; it's vital we start to adapt our working environments to meet COVID 19 guidelines.
Social distancing should be implemented across all businesses where possible, to contain and control the spread of the virus. One of the ways the virus spreads is through airborne droplets, passed from an infected person to other healthy people. By maintaining a safe two metres distance, you minimise the risk of this happening.
Within some workplace settings, social distancing of 2m will be harder to maintain than others. Implementation of key health and safety measures must take priority in preparation for returning to work. You'll need to consider many different circumstances and scenario's, far greater reaching than just the physical space your teams work in.
Key Common Areas
When considering workspaces, it's easy to oversimplify by considering only desks and work areas. Pay careful attention to all areas of your buildings, and even common outdoor spaces. Here are a few to get you started.
Site entry points. Do you have dozens of people commencing shifts at the same time? This could create a distancing issue. Are your doors touch-free? Do you require signing in of employees and if so, is this process hygienic?
Comfort areas. Do you have a staff break room or canteen? This is an area that will require extra planning.
Personal facilities/bathrooms. Are your doors, wash and drying facilities touch-free? Do you have a confined space? Consider restricting access to avoid close contact areas.
Walkways, elevators and staircases. Social distancing measures will need to be considered at every point. You may need to limit the flow of people in these areas or provide added hygiene measures for touchpoints such as handrails, doors or elevator control panels.
Waiting Rooms. Consider restricting all but essential waiting. Remember, it's not just about the distance between individuals, but also any shared materials. You should remove reading material and where possible, the need for signing in with shared pens/pads.
Adapting spaces
In recent years, many workspaces have moved to an open plan environment to encourage collaboration between teams. Transforming this set up into one that is compliant with social distancing will be a challenge and one we all must face immediately.
Here are some simple yet effective ways you could consider making changes.
Create a closed plan environment. Bringing back the 1950's cellular cubicles can sound a bit like a step backwards. However, having these defined spaces will help build a physical barrier and protect workers from the airborne virus.
Use Translucent Screens. Being able to keep your working environment as collaborative as possible will still be important for businesses to thrive. Encourage collaboration but maintain a physical barrier through translucent screens between individual work areas. This can aid productivity as well as improve emotional wellbeing. View our full range of protective screen solutions here
Build 'virtual' spaces. Communication is vital, no matter where your teams are working. Using collaborative online tools such as Microsoft Teams, Skype for business, Trello and Zoom will help you create virtual rooms for meetings and team catch-ups. Making the most out of such technology will be fundamental in ensuring employees feel supported.
Plan your space
You should start to plan your space to ensure you are always maintaining social distancing. Consider implementing a one-way system throughout the building to reduce employees crossing paths, bumping into each other and thus reducing the risk of virus spreading. We also encourage businesses to open more entrances and exits, allowing employees to use different routes throughout the building and avoid high contact areas.
Arranging a new seating layout is a must in today's new world. Being able to only work with space you've got will be difficult and this is where desk dividers and other equipment will come in use. However, for the time being, staggering employees throughout the office can help maintain a social distance of 2m. Dependant on the building capacity, being able to split employees up into alternative desks can help maintain a safe social distance. Where you can not create such distances, consider seating back to back, rather than face to face.
Always keep the focus on social distancing. We suggest using signage to keep this message alive. You can view our range of social distancing signage here.
Reducing the number of employees or customers on-site at any one time will help you limit risk and increase social distancing. Consider implementing a shift or rota pattern to alleviate the strain. Where possible, facilitate those who can to work from home.
The home office
Encouraging employees to work from home is still going to be important for the foreseeable future.
Take some time to consider the home office setup of your teams. Small changes can have a significant positive impact on productivity and wellbeing.
At the very least an employee should have access to the bare minimum to do their job including a comfortable/safe space and adequate technology. With those essentials established it's then important to guide an employee on best practice for setting up their workspace including getting the most from their ergonomic setup and how to limit home working distractions.
We can support your business as you plan to return to the workplace whether that's preparing your workplace or supporting homeworkers as they continue to stay at home.