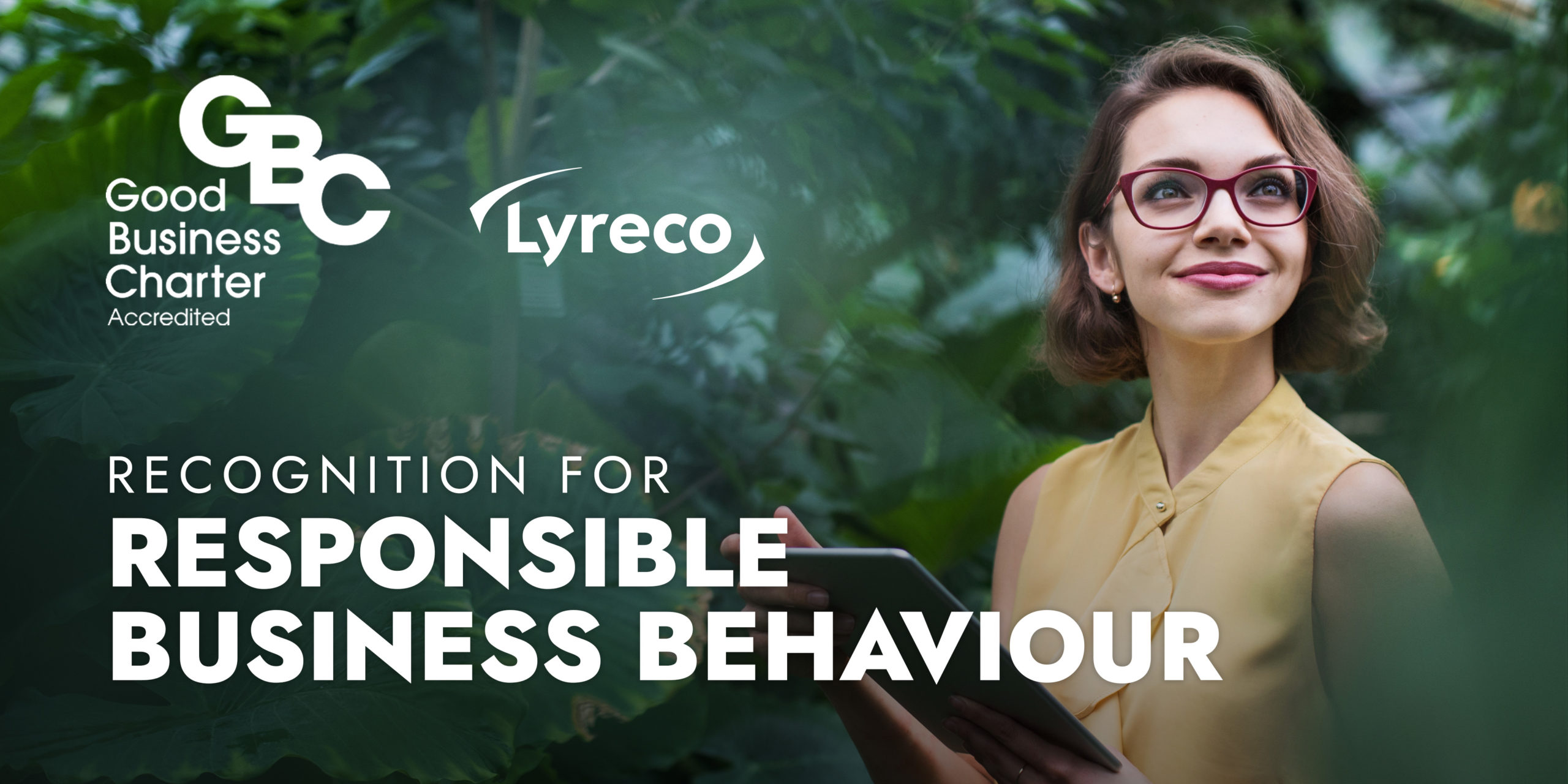 Lyreco's Good Business Charter Accreditation
Lyreco are delighted to announce that we have recently been accredited by the Good Business Charter, in recognition of our responsible business practices.
What is the Good Business Charter?
The Good Business Charter is an accreditation that inspires organisations to undertake responsible practices, such as providing fair working hours to our employees, implementing environmental responsibility across the business and reaffirming commitments to customers, amongst other measures. The aforementioned responsible practices are examples of the 10 key components in order to be accredited by the Good Business Charter and in doing so, ensuring that organisations act responsibly, on behalf of employees, suppliers, and customers.
As the first business solutions provider to join the Good Business Charter, we are proud of our stance on diversity and inclusion, employee wellbeing and our carbon neutral targets.
Lyreco and the Good Business Charter components
Here at Lyreco, we have implemented clear and transparent policies that support diversity and inclusion, in addition to prioritising employee wellbeing in the workplace and consistently encourage our employees to come forward when they have concerns around these key issues.
Furthermore, our position on modern slavery ensures that any factories that produce Lyreco products are regularly audited to meet appropriate ethical standards. Lyreco have also demonstrated a commitment to supporting biodiversity and the wider environment by monitoring and reviewing our carbon neural standards on a consistent basis, in our effort to minimise our impact on the environment.
Lyreco's Product and Services Director, David Harman, said the following in regard to our recent Good Business Charter Accreditation:
"Arguably the most critical issue facing the world today is the impact of climate change and social injustice. It is for this reason Lyreco UK and Ireland have set some strict commitments and targets to tackling these areas. Having the Good Business Charter accreditation acknowledges the great work we are doing."
Lyreco's Head of Corporate Social Responsibility, Andrew Bryers, added:
"Lyreco have been integrating social values and sustainability throughout its process and procedures to play our part in reducing the impact we have on the planet, society internally and as part of the community. Gaining the Good Business Charter provides recognition of our work."
Alongside our Good Business Charter Accreditation, Lyreco have also obtained certifications which reflect our own commitment to the highest standards. This means that whether you're working at a small, medium-sized business or a large corporate organisation, you can be confident that Lyreco are a reliable supplier that can be trusted to support you.
To find out more about the culture we foster here at Lyreco, click here.
For more information around the Good Business Charter visit: Our 10 components – Good Business Charter.
If you enjoyed learning about our latest accreditation, be sure to follow us on our social media by clicking below to be the first to hear about our latest news and blog posts.