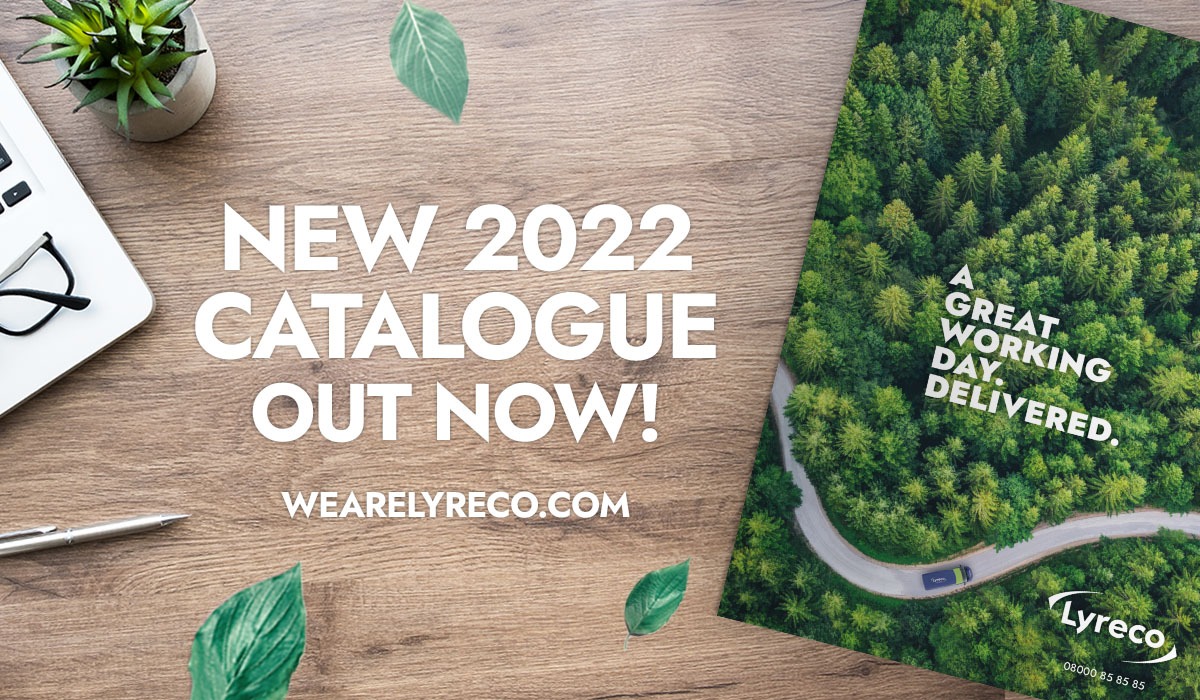 Lyreco Catalogue 2022 Out Now!
We're thrilled to announce the release of our Lyreco 2022 Catalogue! From introducing our 'Great for the Planet' and 'Great for People' logos, to new innovative product listings, we've made some exciting changes and additions to support your businesses even further!
Filled with a variety of easy-to-use features, this year's catalogue enables you to bookmark your favourite pages for quicker access, includes search functionality, and zoom for easy browsing. The Digital Catalogue is complete with clickable product codes – taking you directly to our webshop and allowing you to add to your order with ease.
Making responsible choices just got easier
Since 2012, we have utilised our 'green tree' logo to indicate which products were considered sustainable through their processes and production. This year we have introduced two brand-new icons to replace the green tree logo, giving our customers greater transparency over what they are purchasing, and the impact it has on the environment, as well as wider society.
Our new icons are used to label certain products as either 'Great for the Planet' or 'Great for People'.
Through labelling products with these new icons, we hope to encourage other businesses to follow suit by making more reformed, ethically mindful decisions when purchasing.
'Great for the Planet' labelled products

Made up of recycled or renewable materials
Compostable
Degradable
Can easily be dissembled for recyclable or re-useable purposes
Hold sustainability accreditations.
By purchasing these products marked as 'Great for the Planet' you can meet your sustainability goals and rest assured that the products you are using are having a reduced negative impact on the environment.
'Great for People' products

Benefiting people with disabilities or long-term health conditions
Supporting charitable initiatives
Strengthening employee wellbeing
Supporting workers' rights in developing countries.
By purchasing these products, you are helping to make a difference to your community and wider society.
Recycling your Lyreco 2021 Catalogue
Our enhanced focus on sustainable and socially responsible products doesn't stop there!
We have also added a new service, allowing you to recycle last year's 2021 Catalogue. Through a simple, streamlined recycling process we can work together to reduce the negative impact on the environment by ensuring old, unused catalogues are recycled as efficiently as possible.
Simply add the product code 99.977.059 to your basket when you next place an order or ask your Key Account Manager to do this for you. From here, one of our delivery drivers will collect your old, unused Lyreco Catalogue upon delivery of your next order.
Recycle your 2021 Catalogue and reduce waste with ease today by clicking here.
To browse and shop with our brand-new user friendly 2022 Digital Catalogue click the relevant button below:
If you enjoyed learning about our latest Lyreco Catalogue, be sure to follow us on our social media by clicking below to be the first to hear about our latest news and blog posts.