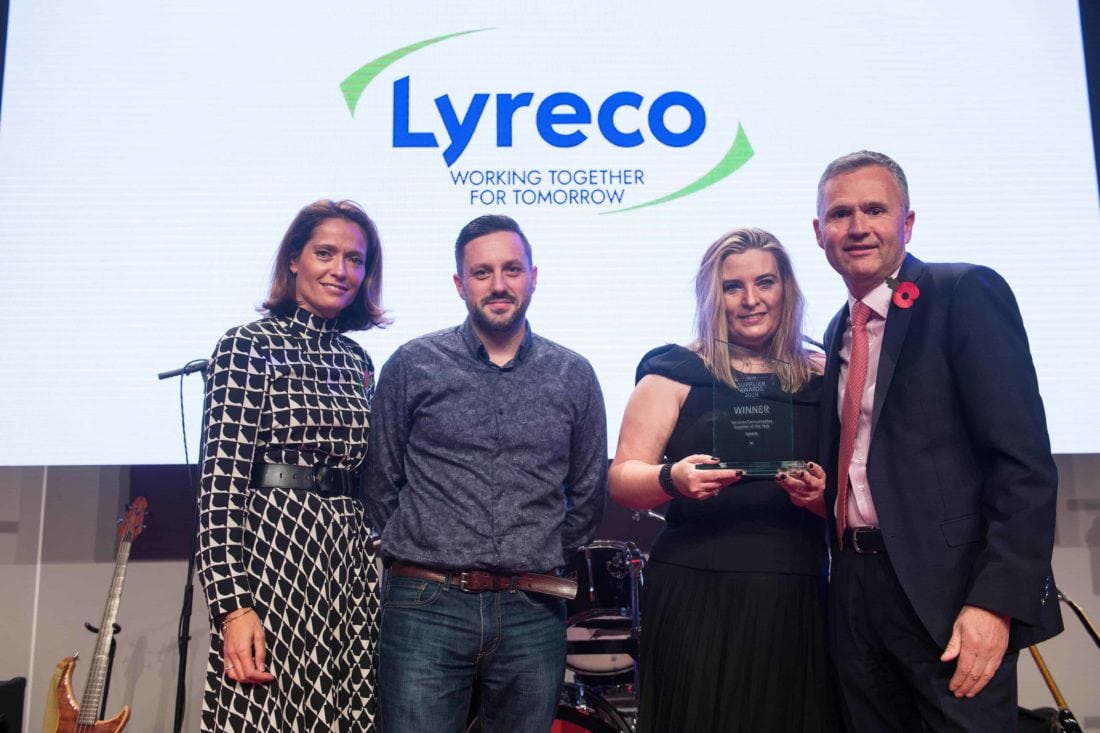 Lyreco wins Services / Consumables Supplier of the Year – Speedy Expo Awards
Lyreco UK are delighted to announce our recent award for 'Services/Consumables Supplier of the Year' at the Speedy Expo Awards 2019!
Lyreco won the award as voted for by all of the Speedy depots, ahead of thousands of other suppliers. The award was presented to Lyreco based on consistently high levels of service and the wide range of products supplied including general office products, catering, hygiene, furniture and PPE equipment.
Speedy are the UK's leading tools and equipment Hire Company and have been a customer of Lyreco for many years. The Speedy Expo is an annual supplier exhibition for all Speedy employees which is held at Liverpool Echo Arena and attended by over 2000 visitors. Lyreco exhibited a stand at the show to talk about our different products and services.
The expo was attended by one of our national account managers Jean Davies, who manages the Speedy account, as well as Matt Lally Hygiene Business Development Manager, James Flynn Lyreco Business Graduate and Manel Roura our QSS Manager, who attended one of the breakout sessions to talk about Corporate Social Responsibility.
The Lyreco team put the award down to a joint effort right across the business contributing to a number of factors including.
The Customer Care team working really hard to manage the orders and work very closely with our Speedy customers to ensure the orders arrive correctly and on time.
High standards throughout the finance team who work extremely hard to make sure our Speedy customers have very little issues with payments.
Manel Roura and the QSS department have supported Speedy with many initiatives including, open days and CSR environmental days.
The recent addition of our comprehensive hygiene product range to the agreement which has been well received. Matt Lally has worked very hard on cons
We have recently added the Hygiene products to the agreement and this has been well received Matt Lally has been very supportive since day 1 working on consolidation for the customer.
Our excellent Regional Distribution Centres up and down the country and all our Lyreco own drivers who always go the extra mile.
This is the 2nd award Lyreco have won at the Speedy Expo Awards, having also come away with Strategic Supplier of the Year back in 2016.
Lyreco would like to congratulate Jean and to everyone working on the account for providing great service that Speedy have recognised with this award! Learn more about what makes Lyreco an award winning supplier by reading more on our Why Work with Us page.