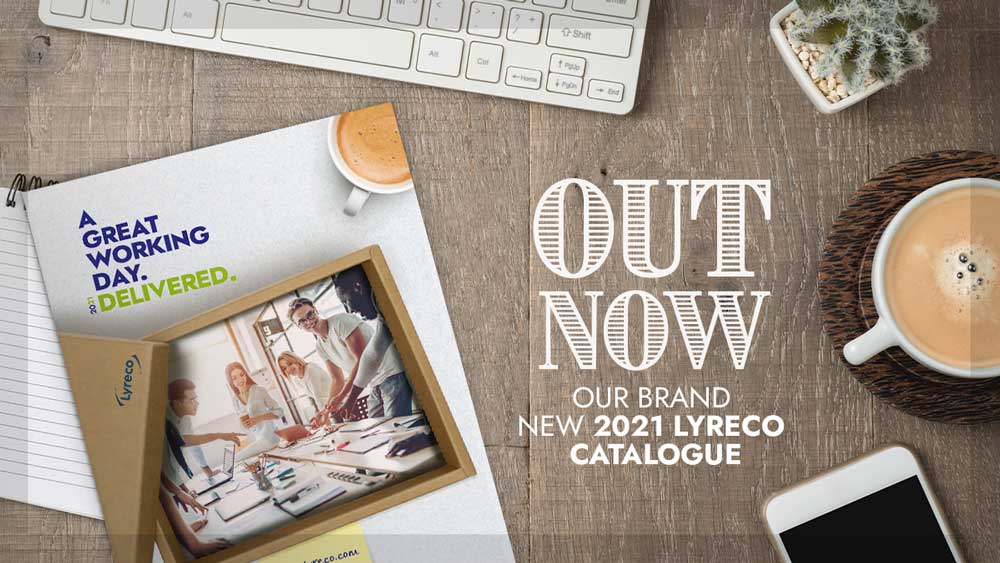 Our New 2021 Digital Catalogue
As 2020 draws to a close, we are all looking forward with a fresh outlook ready for the new year. We've been proud to support some incredible businesses and causes through such a challenging year and it's remained our top priority to help adapt and support your ever changing business needs. Our new and improved 2021 digital catalogue does exactly that! We've reduced the amount of printed copies we produce by over 73% and we've made shopping with Lyreco even easier.
Take a look below at just some the benefits of our 2021 Digital Catalogue:
Ease of use…
Making it as easy as possible for you to shop and get the tools you need is vital for your fast-paced business to thrive. Our new Digital Catalogue has been designed with ultimate ease of use in mind. We know that it can be time consuming trying to find the right products – especially when there are over 11,000 to choose from!
You can now quickly find your favourite products in our catalogue using the search field; simply type in the description or product code you want, and it'll take you straight to the right page.

You can also now bookmark your favourite pages for quicker access next time you shop:

We have also made our products throughout our Digital Catalogue fully interactive, allowing you to click on the product code you want. It'll take you direct to our webshop – where you'll be able to view the full product details or add to your basic. Simple!
Environmental benefits…
We each seek to be more environmentally responsible in our own everyday lives, but as a business we all have a greater responsibility to drive real change forward. We are committed to helping you make sustainable choices.
Moving towards a digital catalogue has enabled us to reduce our paper consumption by over 73%! Not only that, we've used less energy by printing fewer copies, and by only dispatching paper catalogues with existing orders – we've been able to reduce the amount of deliveries resulting in obvious reductions in carbon emissions.
To make it easier for you to shop greener, our Digital Catalogue has labelled and highlighted all environmentally preferable products with our Green tree Icon and a green background.
Safer for you…
Throughout 2020 the health and safety of employees and customers in workplaces has been of paramount importance. We've looked for ways to help you shop your favourite products as safely as possible.
We all know reducing touch points in the workplace is essential in helping stop the spread of virus' and infections. Our fully accessible digital catalogue allows you and your teams to shop safely from your own device, wherever your workspace may be. The Digital Catalogue can be shared virtually through email or other digital platforms here.
Future proofing for flexible workspaces…
As we look to the future, research tells us that the rise of the flexible working approach is set to continue. We believe that many businesses will see employees working flexibly – with a combination of working remotely and in the shared office.
Physical catalogues are heavy and take up a lot of space. People who are working remotely often have limited space. It's also impractical to carry a physical catalogue to and from the office. Our new Digital Catalogue is always on hand in any workspace, allowing anyone to access all our products from their own computer, phone, tablet or laptop by a touch of a finger.
View the UK 2021 Lyreco Catalogue Here
View the IRE 2021 Lyreco Catalogue Here
If a paper catalogue is still the one for you, you can order yours by following the below simple steps:
When you are checking out, you will see a handy pop-up asking if you want to add our new 2021 paper catalogue to your basket. Simply input the code instructed on the pop-up in your basket and check out as usual. If you miss out on our catalogue code on the checkout page, just use the codes below:
UK: 4.710.671
IRELAND: 4.710.682