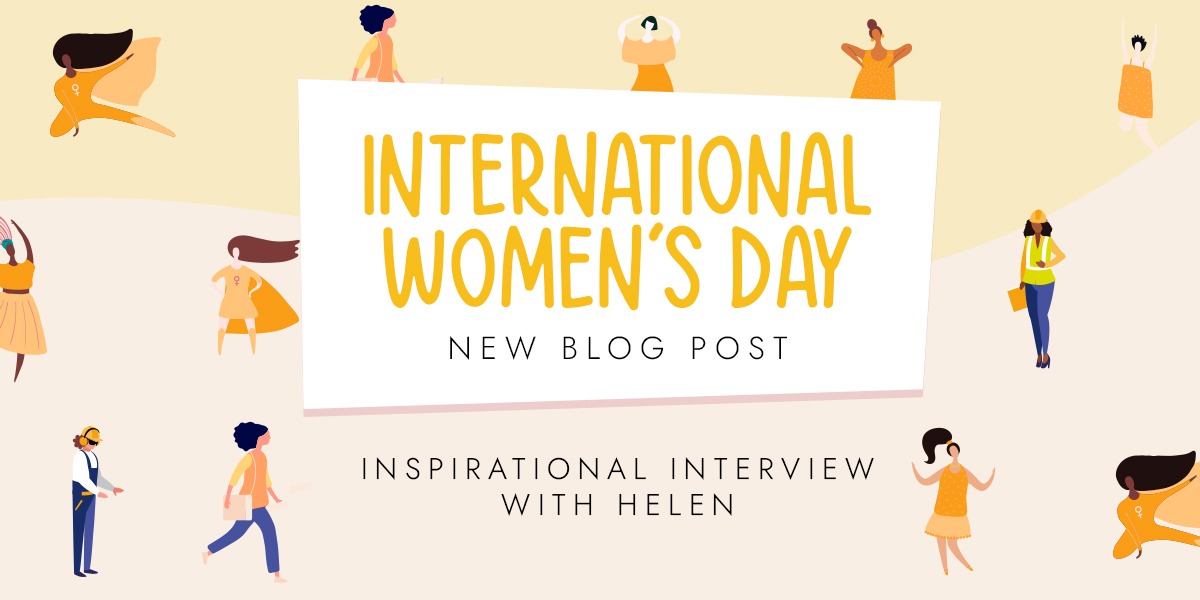 International Women's Day Interview with our Head of PPE: Helen
This international women's day we want to join you in celebrating women's achievements. We want to show our appreciation for the incredible work and accomplishments of women across the Lyreco Business and beyond.
We're proud to be part of a community where diversity is valued, and where inspirational women are breaking gender roles and forging their own paths. We want to continue to build workplaces where women thrive, and we support our customers in doing the same.
Creating a world free of gender bias is something we all must continue to work towards. Breaking traditional gender roles is just one of the ways in which inspirational women are pathing the way for others, and our very own Helen Moran, Head of PPE is doing just that.
At Lyreco, we consider all employees equal and champion progression in everything that we do. That's why on International Women's Day, we sat down with our Head of PPE, Helen Moran, to talk through her time with the business and discuss how, women can continue to succeed at Lyreco.
Helen, can you tell us about your career progression?
"I've worked for Lyreco for 25 years. Initially joining as a Marketing Secretary to the Marketing Director at the time, I have since held 11 different roles within the business, from product manager roles to sales manager roles, at different levels.
"Currently, I operate as the Head of the PPE Category in the Product & Services Team. In this role, I'm tasked with strategically directing the PPE Category, managing a team of people to ensure that the direction of the PPE Business and the procurement for the category is successfully managed.
"In PPE at Lyreco, we actually have a female-dominant team, which has really been built around bringing people into the business who are best suited for the role, rather than based centrally around their gender. That being said, I'm happy to support women in business and I'm proud to be a woman in business who has held so many roles and remained at the same company for so many years.
Do you feel that women are supported in their careers?
"For me personally, Lyreco have always supported me in my career. Twenty years ago, Lyreco even sponsored my degree and back then that would have been quite ground-breaking, in the sense that they were developing and investing in young people and women too. I also think that it demonstrates that there were no real barriers for me when I joined Lyreco, in paying for me to do both internal and external training at such a young age, and within a short period of time, I feel that I've always had support, throughout my career with Lyreco.
"In my view, I see that as completely normal, that might just be because I've not felt strong discrimination in my career and that's down to Lyreco being an all-inclusive employer, always looking to hire the right person for the right role.
"Put it this way, if I felt that Lyreco was discriminatory or put barriers in place to limit progression, I wouldn't have stayed here for 25 years and held as many roles as I have.
What one bit of advice would you give to an empowered woman looking for a successful career in business?
"The one bit of advice that I would have given to my younger self is probably from my dad, who always said to never give up and that hard work always pays off."
We'd like to thank Helen for her years of hard work and dedication, as a great asset to the business!
If you would like to create a more inclusive working environment that is equal, diverse and 'breaks the bias', view out top tips below.
Firstly, you can implement an equality, diversity & inclusion strategy, driven by your Human Resources Team, who can ensure that there is equality and fairness in all recruitment and people centred processes.
Provide inclusive policies which protect the needs of all genders, ages, races and protected personal characteristics.
Identify diversity and inclusion champions across your business and regularly consult with them on a variety of key topics around diversity and inclusion. This will ensure your business is well informed to make good decisions for the benefit of your business.
Build an environment that makes it easier for your employees to bring forward any concerns and address their needs.
Ensure all employment decisions are based on qualifications, ability, work experience and work quality, at all times.
We're proud to be an all-inclusive employer, highlighted by our recent Boss Award and implementing our Diversity, Inclusion and Belonging Strategy: BOSS Awards: Diversity and Inclusion Award Winner | Lyreco.co.uk (why.lyreco.com).
From all of us at Lyreco, we hope that this International Women's Day inspires you to feel empowered to succeed in all of your personal and professional goals.
To find out more about our new, exciting vacancies click here.
If you enjoyed getting to know our Head of PPE this International Women's Day, be sure to follow us on our social media by clicking below to be the first to hear about our latest news and blog posts.