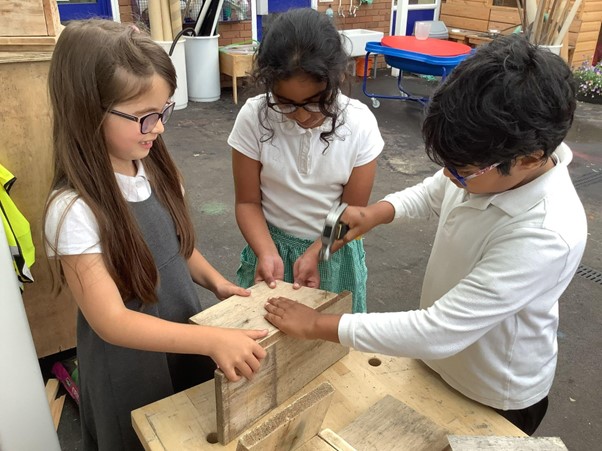 Local school children turn scrap wood into homes for birds with a little help from Lyreco
As part of our ongoing work with the local community, the Lyreco team were invited to work with Telford and Hollinswood Primary as part of their World Environment Day activity.
We have a simple philosophy. It means always doing the right thing. We call it Lyreco Goodness.
We had the idea of turning old waste pallets into bird box kits for the pupils to assemble new homes for the local birds. Our team cut the wood to size, created instructions and delivered the kits to the school. Pupils assembled the bird boxes, half of which were given back to Lyreco to put up in the area outside the office. The school also invited some of the Lyreco team to attend the school's Environmental Sustainability Assembly and talk about the project.
Every year, Lyreco does something special for the UN's World Environment Day. This presents us with a fantastic opportunity to be creative and educate our local community on important environmental issues. The theme for World Environment Day 2022 was 'Only One Earth'.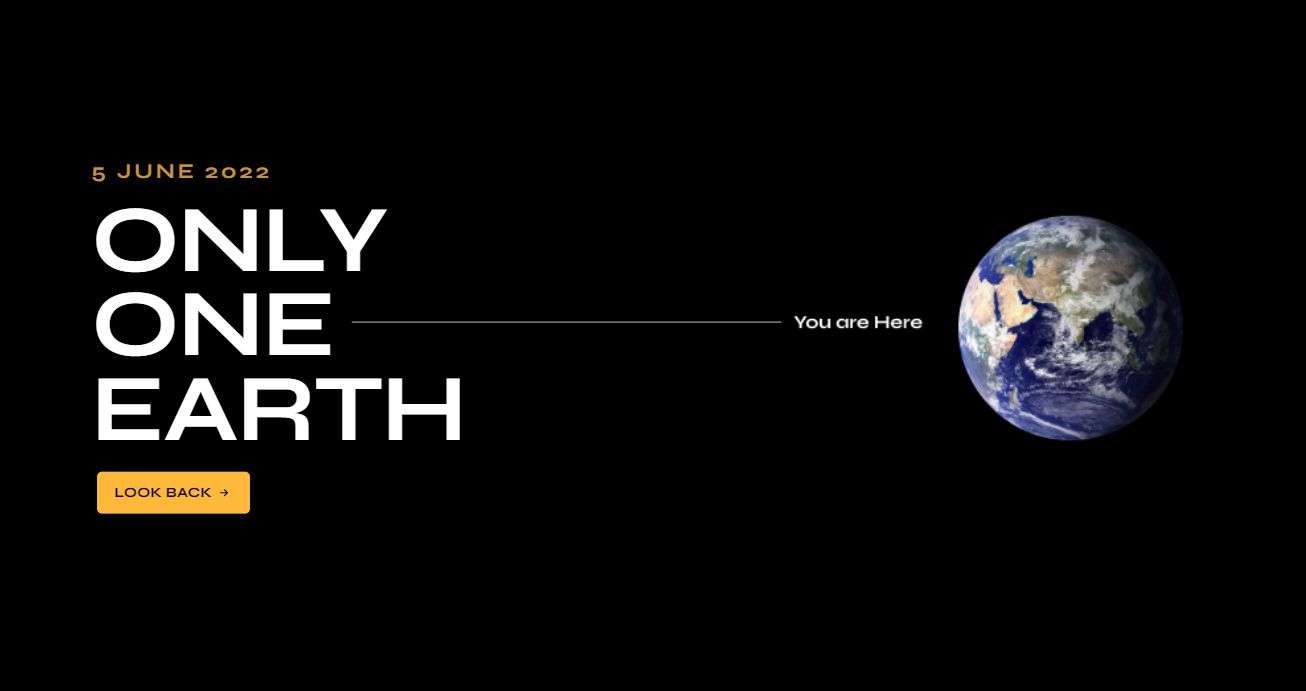 During one of the group's regular calls earlier this year, Susanne Bearblock – Sustainability Champion & Eco Committee Lead – said she was looking for ideas of activities to do with pupils. She explained that the school does a lot of sustainability activity with the children and she was looking to do something valuable, educational and fun. It was at this point that Manel had a lightbulb moment: maybe we could turn old wooden pallets into bird boxes!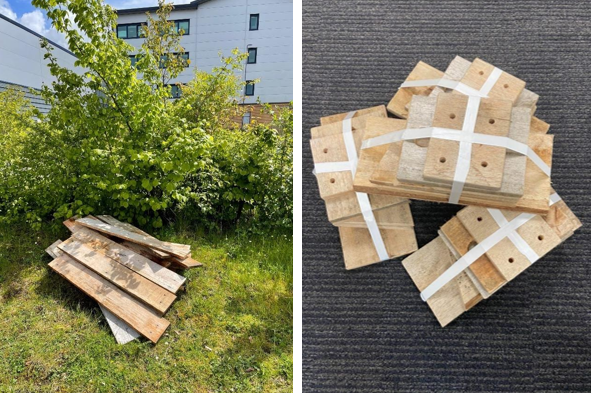 Young people and education is such a key part of helping to implement change and build a better future, so we love to work with schools and pupils when we can.
Through this activity, we could help support the UN's sustainable development goals (SDGs), educate the next generation as well as do our bit for the circular economy by upcycling old pallets. As well as pupils learning about the precarious future of many of Britain's bird species, the bird boxes would also directly help the local wildlife.
Following this, Quality, Safety, Sustainability and Supply Chain Project Coordinator Jake Jones and Manel Roura from Lyreco's Quality Safety and Sustainability (QSS) team sourced and dismantled a number of disused pallets. Next, Jake used a set of existing instructions from the Wildlife Trust and RSPB to create instructions for the pupils to use.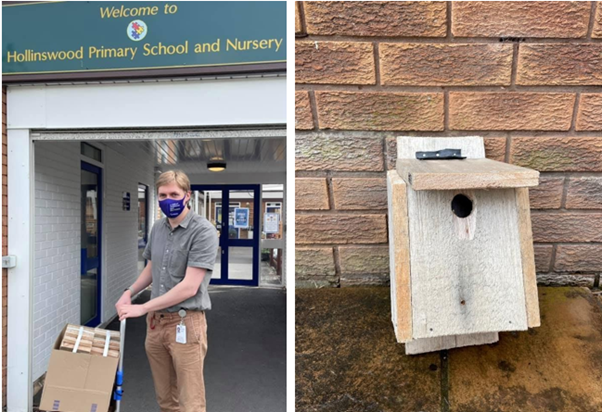 The wood and instructions were sent to Tom Strand and Dave Rigby in the Building Services team who cut the wood to size. These kits were then delivered to the school with the instructions for their day of box building.
"We love what we do," say Tom and Dave. "But to know a project is enriching the local wildlife and teaching children about important topics like sustainability makes it even more worthwhile."
On the day, the children of Telford and Hollinswood Primary School were excited to get stuck in, building a total of 15 bird boxes from our scrap wood!
"The children enjoyed making bird boxes using the waste wood and a design supplied by Lyreco as part of our World Environment Day activities," explains Susanne. "Many of the children hadn't used a hammer or nails before and had lots of fun assembling the boxes. They were very engaged with the hands-on nature of the project.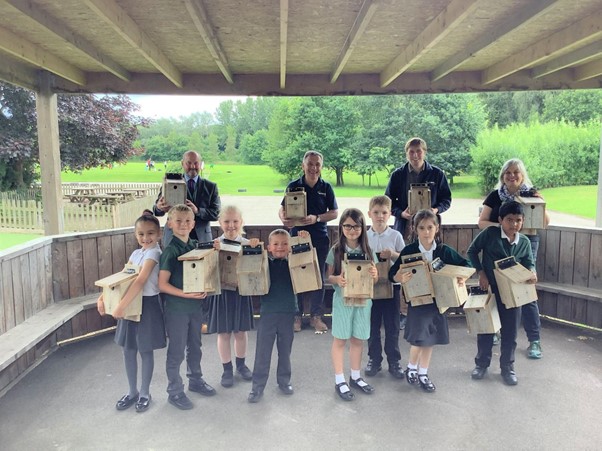 "Everyone enjoyed meeting Manel and Jake, and presenting them with the assembled bird boxes."
Susanne adds that, as well as assembling the boxes, they discussed finding new uses for waste items. "We talked about how we would share the boxes between our school site and Lyreco's site near the Granville Nature Reserve.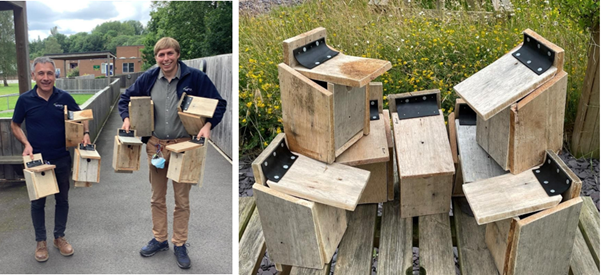 The school kept eight and gave Lyreco seven of their own to install in the trees around the Telford office. Lyreco staff weren't going to let the kids have all the fun and built a further two bird boxes themselves. These were also installed in the area around the office.
"After World Environment Day, Manel and Jake attended our school Environmental Sustainability Assembly on Teams where we shared information about the bird box making activities with all students and staff," says Susanne. Jake and Manel also talked to the children about biodiversity protection to help the school with sustainable practices as well as developing practical skills.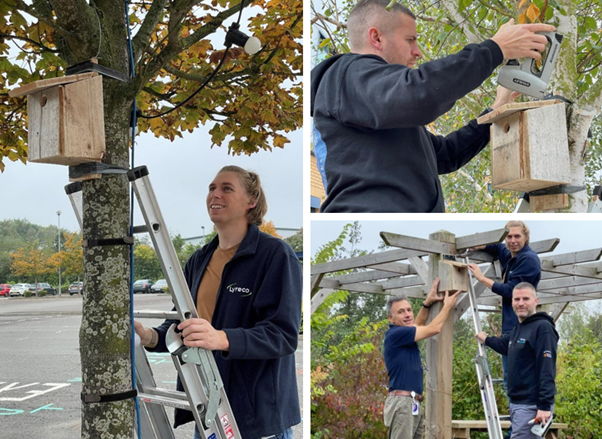 "The link with a local school through the Telford & Wrekin Climate Change Partnership, the engagement of Lyreco volunteers and the use of waste materials to deliver biodiversity protection is a true example of sustainability in practice," says Manel. "We have commitments on circular economy, social value and biodiversity protection and this project was an opportunity to address all of them."
At Lyreco, we're not just committed to the UN's SDGs and building a more sustainable future, we're proud to be actively involved in great initiatives like this. It's also a lot of fun! That's Lyreco Goodness.
Read more stories about our work to achieve our sustainable development goals.