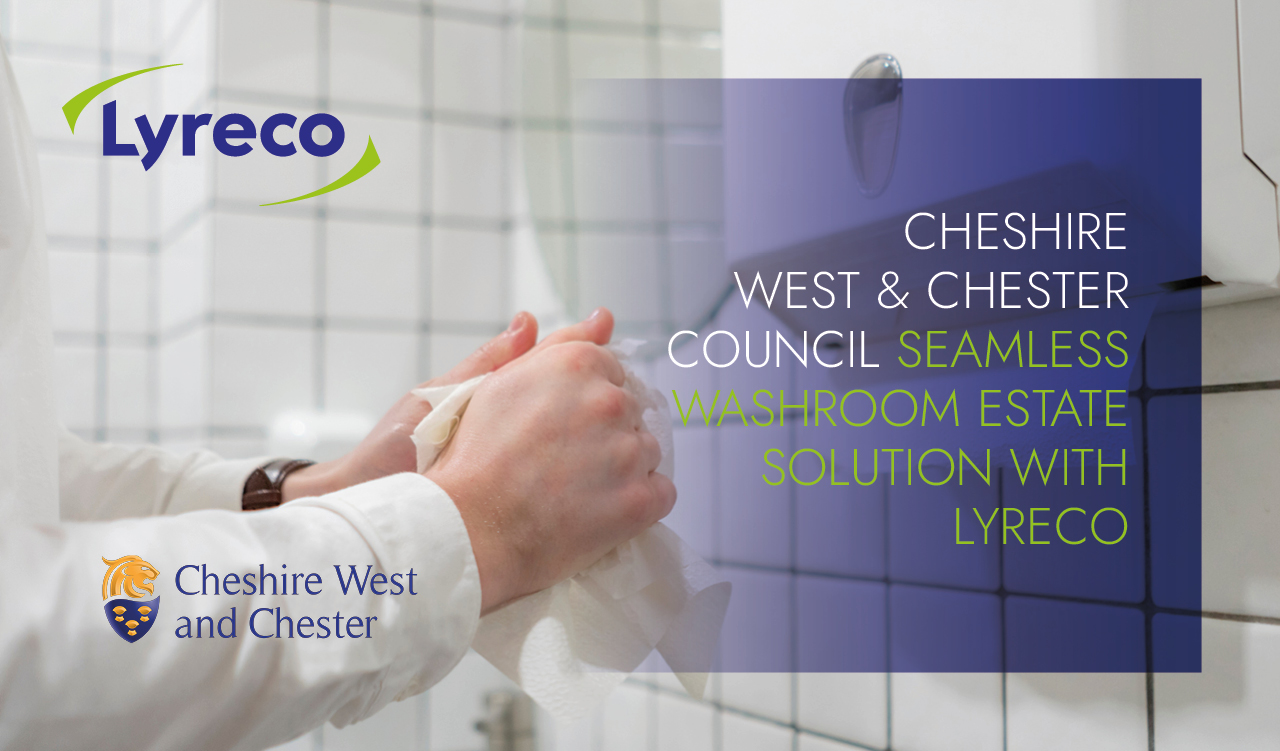 Case Study: Cheshire West & Chester Council Seamless Washroom Estate Solution with Lyreco
Cheshire West & Chester Council approached Lyreco with a clear list of objectives for their washroom products, with Raphaels Washroom Systems offering several solutions and being the obvious choice for their washroom estate. 
THE CHALLENGE
Value for Money
During this time of inflation, the team at Cheshire West Council were looking to make savings across the board, which included the product cost and associated labour, blockages and administration costs of their washroom products.
Reduce the Maintenance Routine
Historically, multiple washroom products from various suppliers were used across their sites, alongside frustrations with the time spent refilling different dispensers and having a range of products unsuitable for all environments proving inefficient and complex in use.
So, Cheshire West and Chester Council looked for Lyreco & Northwood's expertise in finding an appropriate solution to maximise the efficiency of their entire washroom estate.
Simple to Use
The final key element to the brief was that products needed to be simple to use both from a user perspective and a replenishment perspective across all sites and users.
THE SOLUTION
After a discussion with Cheshire West and Chester Council, Lyreco identified the Raphael range of washroom dispensers by Northwood as the standout solution to fulfil the paper and soap needs.
After identifying the best-suited products, both parties agreed to run a comprehensive trial to ensure that the range was delivered against its promise. The trial proved successful, with positive feedback across the board resulting in a full rollout of the Raphael® system.
Why was the Trial a Success?
Cost
The authorities selected a 2-ply Twin Jumbo Toilet Tissue, 1-Ply Roll Towel and Anti-Bacterial Foam Soap. A 1-ply Toilet Tissue was considered, but having weighed up the quality and cost savings, it was decided the 2-ply was best placed for them.
Despite deciding on a better-quality product, they have already seen cost savings above 18% versus their previous products, with the soap adding a further 22% savings.
The washroom estate of dispensers was supplied Free on Loan, at no cost to them. Fitting was also provided free of charge, with everything fitted promptly, with minimal disruption to every site within the estate.
Environmental Considerations
Cheshire West & Chester Council was impressed with the breadth of recycled products in the Raphael range, all of which are made in the UK.
Recycled toilet tissue and hand towels are typically made from recycled office waste, and all come with FSC® certification. These recycled products are made locally with minimal road miles contributing to the Local Authorities' drive towards Sustainability.
Washroom Maintenance
Key to the decision-making process was how frequently products needed to be replenished. Choosing a Twin Jumbo dispenser with the capacity of 620m 2 ply tissue has undoubtedly made life easier. Not only lasting longer between refills but allowing rolls to be replenished without waste due to the innovative Infinity paper system. Soap products have also been reported as quicker and easier to refill, which generally causes less mess in the washroom.
Staff now spend less time on washroom management and can focus on higher-priority tasks, making their washroom maintenance schedule more time efficient and a proven saving for the Council.
The Raphael range also prides itself on the fast breakdown in water. Northwood has many years of experience producing specialised tissue paper that works in even the most problematic pipes, which is one of the reasons that Raphael is a prime choice in older buildings. The Council had previously had many problems with blockages, but that is now a thing of the past since the Raphael installation.
Simplicity
The Council has also reported soft cost savings through a combination of Lyreco and Northwood efficiency.
Lyreco's easy-to-use online ordering platform has enabled the Council to order their complete cleaning, hygiene and janitorial products with ease, whilst the high case content of the Raphael range has meant that re-ordering frequency, admin time and deliveries have also become more efficient and consolidated, cutting the need to procure products through a variety of suppliers.
Lyreco & Northwood have delivered against what they claimed at the start of our conversations.

Improved efficinecy, straightforward ordering and fast responses have meant that this project was delivered with minimal disruption, and the Authority can now reap the rewards moving forwards.

Cheshire West & Chester Council