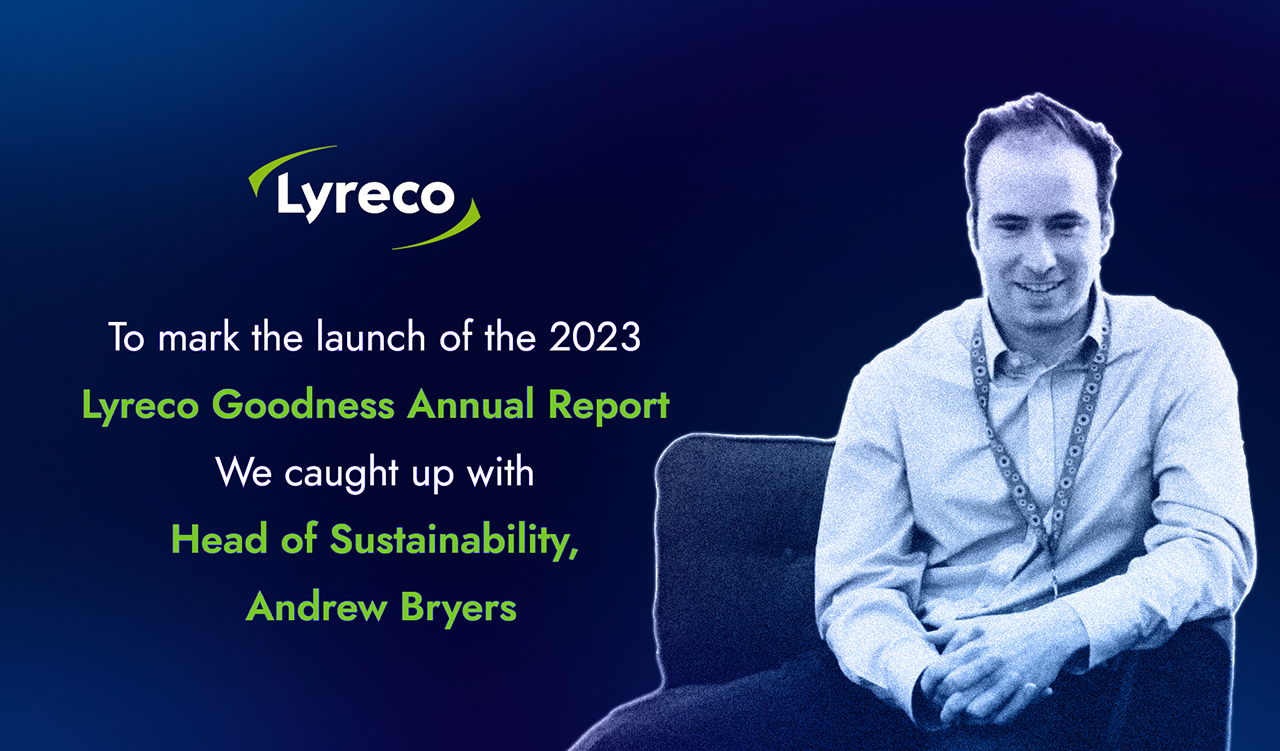 Lyreco Goodness: Andrew's Review
Launched in 2021, 'Lyreco Goodness' became the thread woven throughout our organisation.
Lyreco Goodness describes:
Our approach to everything – from products and suppliers to people and the planet. It means always doing the right thing.
Our 2023 Lyreco Goodness Annual Report collates our ambitions, objectives, accomplishments, and priorities on social value and sustainable development.
It focuses on 6 core objectives:
Circular Economy
Inclusive and Supportive Lyreco
Supplier engagement and Product Transparency
Reducing our Global Impact
Social Responsibility
Goodness Support Programmes
A year on since we launched our first Lyreco Goodness Annual Report, we are proud to celebrate all our achievements over the last 12 months but most importantly we are excited to visualise our ambitions on how we make a positive impact for the next 12 months.
We sat down with Head of Sustainability, Andrew Bryers to talk about the latest launch, the success of 2022 and what Lyreco Goodness looks like in 2023 and beyond.
Lyreco goodness 2022: A year in review
The first year of Lyreco Goodness had plenty of memorable highlights and truly paved the way for our ambitions in 2023.
Andrew recalled many key moments including:
In March, we welcomed 10 microbusinesses and social enterprises to Lyreco on a 12-month programme worth £25,000/ €29,000 in social value through the Supplier Support Programme.
In June, we invested £2.3 million in the expansion of our electric van fleet, taking the number of electric delivery vehicles from 17 to 67 in 2022.
In October, we held out first Lyreco Goodness Charity Dinner, a night which saw us raise over £18,000 for our six charity partners and showcase the work we do with our charities to raise funding and awareness.
In December, we were recognised by the community for our work on sustainability and were invited to join the newly formed Sustainability West Midlands External Advisory Committee.
All of these fantastic achievements and hard work over the year culminated in winning the Sustainable Leadership award at The BOSS Industry Awards in November 2022. It was great to see work from the Sustainability Team to accelerate Lyreco Goodness into an industry-leading programme being recognised and celebrated.
OUR FUTURE: WHAT LYRECO GOODNESS LOOKS LIKE IN 2023
In the latest report, we look to document not only our goals for 2023 but look to truly appreciate how far we have come in the last 2 years.
From achieving fantastic circular economy results including reusing over 60.9% of our waste in the last 12 months and maintaining our UK zero waste to landfill target to introducing a new sustainable selection methodology to better assess our product selection under three new criteria: Planet, People at Work and Community by Lyreco.
At Lyreco, we aim to constantly review our sustainability performance continually striving for a better future. When speaking to Andrew he mentioned several of the goals we have set to achieve this.
See a 5% reduction in internal waste (tonne per £ turnover) year on year
100% of the total packaging weight that is used for shipping will be recyclable or reusable by 2025
Increase our sustainable product range
Launch our Community in Practise Programmes
Continuing to increase the number of hours used through our Internal Volunteering Scheme
You can read all about the future of sustainability at Lyreco, our internal initiatives to promote inclusivity and diversity, where we are now in our Carbon reduction mission, the award-winning Supplier Support Programmes plus, much more in our latest Lyreco Goodness Annual Report.
We are proud to work with all those who recognise the importance of Lyreco Goodness and together hope to truly make a difference to our legacies embodying all that Goodness represents.
Our impact may be large, however, our potential to improve our planet is great.
READ OUR 2023 LYRECO GOODNESS REPORT 2023
Our report brings together the core targets and commitments of Lyreco UK & Ireland (and at Group level) into six main objective themes. It also shows how we're doing with certain commitments as well as providing a glimpse at some of our suppliers' great initiatives.