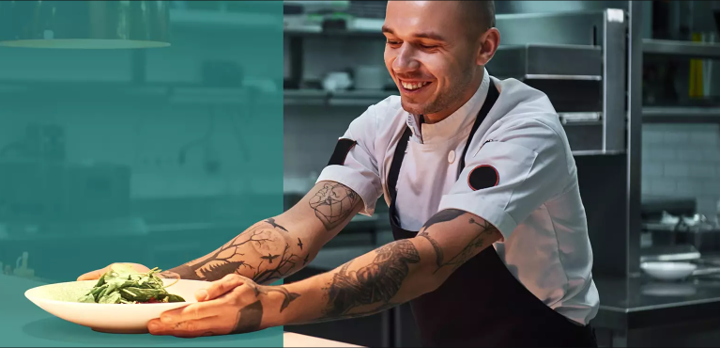 Partner Case Study: Compass Group Ireland
How Compass Ireland partnered with Lyreco to make sustainable gains and embrace new innovations to support their Net Zero Strategy.

The challenge
Compass is one of Ireland's leading contract catering service providers. With more than 200 sites across the country, Compass delivers 'food experiences' to some of Ireland's leading organisations in manufacturing, pharmaceutical, technology, financial, sporting, aviation and more.
As Irish employees return to the workplace, the need for on-site catering has understandably rocketed. For Compass, business is booming, and the company is diversifying and growing strongly. In other words, more mouths to feed! But it's not just about food – the pandemic has changed the way people think about work. More than ever, they want their employer to show more purpose.
Accordingly, Compass has adopted an ambitious set of sustainability targets including achieving Net Zero by 2030. One of the company's key objectives is to replace disposable catering supplies with recyclable and/or compostable alternatives.
To help it move towards becoming energy carbon neutral, Compass would need a partner with vast experience of helping organisations achieve sustainability through innovation; a company that 'walks the walk' in terms of its own environmental performance; and a safe pair of hands that could provide trusted leadership throughout.
The solution
Lyreco knows Compass Ireland very well. The firms have worked together for over 10 years, with Lyreco providing a range of products and services including office supplies, hygiene, health and safety equipment as well as catering supplies.
In tandem with a proven track record in delivering innovative workplace solutions, Lyreco's sustainability journey showed how it could align with Compass' own objectives. In the past decade alone, Lyreco's 22 UK sites have cut CO2 emissions by 57% to become energy carbon neutral. The company is also working towards zero waste to landfill by 2025 as part of a global pledge to achieve a circular economy, with products and solutions being re-used, and producing no waste.
Working closely with Compass, Lyreco explored ways in which it could advance the client's sustainability agenda. These included Lyreco's new Loop project, aimed at transforming everyday products and packaging from single-use to durable, reusable alternatives. This initiative is designed specifically for clients that wish to move towards a circular economy workplace, aligning perfectly with Compass' goal of moving away from disposable catering supplies. Moreover, Lyreco's increase in products that are great for the people, planet or community has supported Compass's goals. More sustainable product options from the Lyreco Goodness range such as the new Cheeky Panda bamboo-based toilet paper, which would make a small but significant contribution towards Compass' overall sustainability goals.
Other innovations included DSE (display screen equipment) assessments, helping to increase productivity and satisfaction among hybrid workers.
The results
In the first instance, Lyreco has supported Compass in its primary mission of providing catering services to some of Ireland's leading businesses, allowing thousands of people to break bread together every day.
Lyreco's delivery of innovative products and services has been praised by Compass, Category Development Manager Avinash Beeltah commenting: "Communication from Lyreco has been very good, we have a great working relationship with Lisa and Lee, with regular product updates and a proactive approach to our needs. The way Lyreco supported us through the pandemic was also brilliant. As a strategic partner, they align to our company goals, our client needs and our sustainability objectives."
Lyreco's support in transitioning to a more sustainable way of doing business also provided tangible results, with Compass winning Best Green Procurement Project of the Year at the National Procurement Awards. At the awards, Compass Ireland's Head of Sourcing, Edward Fagan, directly referenced the company's work with Lyreco, commenting that: "Re – looking at disposables and packaging is reducing our carbon footprint while supporting a sustainable local economy".
As the relationship with Lyreco strengthens, Compass is now setting its sights on further sustainability targets and aligning with upcoming legislations when it comes to product use. A successful, productive partnership – with more to come.
Find out more about how we support businesses in Ireland