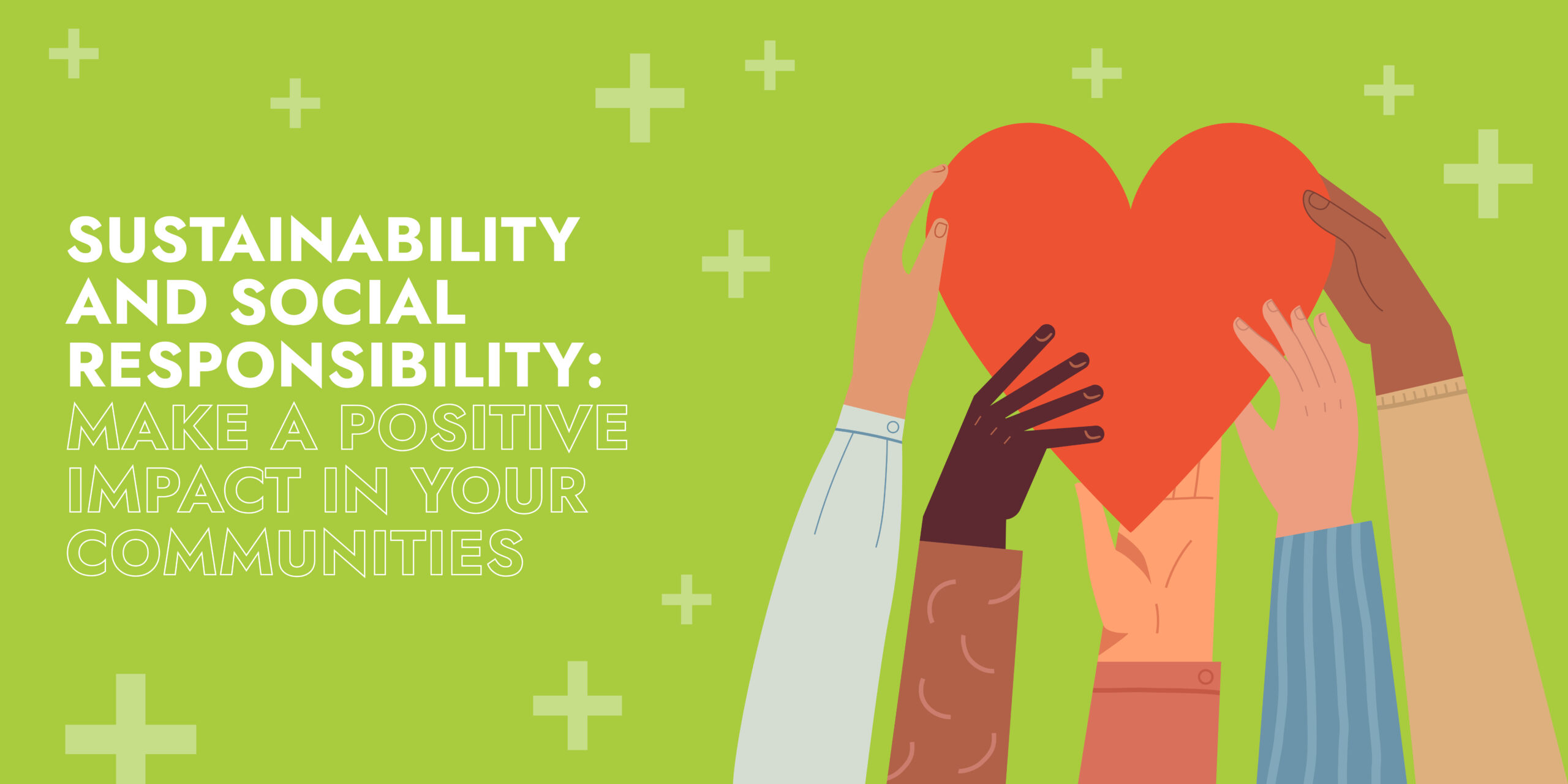 Sustainability and social responsibility: How SMBs can make a positive impact in their communities
In the broadest sense, sustainability and social responsibility measure the ways in which organisations impact their environment both in terms of the planet and the people on it.
Large corporations are often seen to be taking the lead with extensive sustainability and philanthropic initiatives, but it's not all about donating millions or planting thousands of trees. Small businesses can make a phenomenal difference too by making simple but meaningful steps towards a greener and socially responsible future.
Andrew Bryers from Lyreco explains how investing in sustainable and socially responsible practices can help small businesses to make a lasting positive impact on their community in the modern world.
The benefit of sustainability and social responsibility
Why is social responsibility important? The short answer: it shows you care.
In a landscape where many corporations can seem faceless, engaging with sustainable practices and socially responsible initiatives bring humanity back into business – a benefit for both consumers and employees.
Corporate social responsibility is particularly relevant today in an age where consumers are becoming increasingly concerned about the impact of their purchases. Omnicom Group's Cone Communications showed that 70% percent of millennials were willing to spend more with brands that support causes they care about.
By striving for sustainability and social responsibility, customers can engage safely with your company in the knowledge that through you, they can make an ethically sound purchasing choice.
A step towards sustainability – a modern science
With the rise and continuation of industry, significant damage has already been caused to the planet, meaning that in 2023 it's more important than ever for companies to take accountability for their own processes and tighten their environmental standards.
With environmental impact in mind, many businesses are choosing greener ways to operate. Whether the goal is net zero, or small and steady changes to increase awareness of sustainability, here are some of the changes companies can make to operate greener.
Sustainable sourcing
A part of being a sustainably conscious business is not just paying attention to your own environmental practices but being aware of your suppliers' values too.
Take a look at your supply partnerships and see how socially, ethically and environmentally conscious the businesses you work with are and whether their values line up with your own. Where are they getting their raw materials from? How are they impacting the planet? Are they a company you want to continue spending your time and money to do business with?
You may need to decide where you're willing to compromise when it comes to sustainability. 'Clean' production can cost you more in the short term but forging local relationships and sourcing recycled materials can also reduce your operating costs when it comes to shipping and transportation.
Sustainable office supplies
Take your office supplies for example. They're something every office space needs to function, and sourcing them ethically and sustainably is an easy way to make a difference; especially if you work alongside an organisation such as Lyreco that does the hard part for you.
Once you've added your office supplies to your basket, at checkout you can opt to press the Go Green button. Lyreco experts have already done extensive research to develop a sustainable selection of supplies so that you don't need to scour the web for sustainable alternatives. All you need to do is click a button and the greenest options will be placed right in front of you, supplying you with products that benefit the planet, people and communities.
Energy efficiency
Prioritising energy efficiency is a logical and achievable first step for businesses looking to improve their sustainable practices, and can benefit not just the planet but the company's economic development too.
To reduce their carbon footprint businesses can exchange light bulbs for energy-efficient LED options to reduce electric consumption in office buildings or install intelligent programmable thermostats to measure and regulate room temperature outside of business hours.
It's not always about investing in new technology though, reminding staff to be diligent about turning off lights and computers at the end of the workday may seem like an obvious solution, but it's something team members may forget in day-to-day operations. It's simple but can make a huge impact on your energy bill.
Conserve natural resources – go paperless
Paper, though technically a renewable natural resource, is responsible for a lot of office waste and contributes towards the problem of deforestation. Limiting paper use can help your business become more sustainable.
Depending on the nature of the company, going paperless may be a bigger task for certain businesses than others. Replacing paper admin systems with digital versions is an investment but one that can be both environmentally and economically beneficial, saving you money in the long run.
It will also save you plenty of filing cabinet space!
If going paperless isn't an option for your business, consider printing smarter. Use recycled paper and ink cartridges where possible, avoid colour print-outs and print documents two-sided to reduce paper consumption.
Contributing to the community
Social responsibility goes beyond being environmentally responsible, it includes taking steps to positively engage with the community in a way that creates opportunities, typically for minority or underprivileged groups.
Small businesses are often more connected to their local communities than larger corporations already, an integral part of the local economy and social fabric. You're probably already implementing social responsibility strategies without having put a name to it.
The good news then is that as a smaller business, you're in a good position to further these strategies and will better be able to see the real world impacts they might be having.
Corporate social responsibility initiatives usually fall into four categories: environmental impacts, ethical responsibility, philanthropic endeavours and financial responsibilities.
This can look like investing in well-being, providing access to quality education to promote economic growth, participating in voluntary programs, sponsoring community events and initiatives and partnering with non-profits.
Providing education
It's a good idea to engage with the community in a way that's relevant to your particular business. While for businesses in industries such as construction, this could involve providing free labour or materials to community projects, not everyone can supply these types of assets. For many businesses, helping the community could look like using the knowledge and experience within your company to educate and provide better job prospects, helping to nurture homegrown talent.
Visiting schools to deliver workshops to students or community centres to support community members of a working age are both options, as well as working with a charity or apprenticeship program. Workshops don't have to be company specific, often more generalised working skills are as appreciated as in-depth industry knowledge.
Cleaning up the community
Your business may not have the capacity to engage with education programmes, but there are other ways you and your staff can benefit the community as a small group or as a company-wide initiative. One such way is through clean up events, especially if your offices are located near public areas such as a beach or park.
This has the double benefits of helping the environment and local wildlife, as well as improving the face of the local area in a way that locals will appreciate.
This point is particularly relevant to small businesses, which may feel daunted by the idea of engaging in local CSR activities because they can seem costly and time consuming.
Sponsor an event
Sponsorship may seem like the domain of big businesses but there are plenty of opportunities for smaller firms too. Sponsoring an event, whether that be a charity night, art exhibition, school project, recycling initiative or sports tournament, is a great way to be visible within the community and foster new partnerships with other businesses and potential customers.
You can donate a sum that can contribute to the organisation and running of the event or buy something in particular that the organisation you're helping needs – think providing a sports kit for your local sports team to play in.
It's not just money that is needed to run an event, if you want to get your business out there and contribute to a local event but don't have the funds to spare, speak to the hosting organisation to see what else you can do to contribute. Often you'll be able to provide a product, service or even a host venue that can elevate the event and make a meaningful impact.
A real world example
The fact that companies are becoming increasingly aware of how they can make a lasting social impact is a great thing, but even with all of the above information, it can be hard to visualise what these practices might look like in effect and how your business might begin to implement them.
Lyreco for Education is just one example of how a business has made steps to help not just the local and global communities.
Both the company and its staff have committed time to the charitable endeavour of improving the quality of schools and learning conditions across six different countries, increasing school enrolment and reducing school dropout rates.
What does that look like?
In January 2019 Lyreco set the target of helping 11,000 children enrol in primary and secondary schools in North-Eastern Cambodia. Since then 10,000 employees have been driving fundraising activity resulting in the company being well under way to reaching that target.
As previously discussed, knowledge is also a vital resource that can be used to benefit the community alongside or instead of fundraising.
Working with Young Enterprise, Lyreco employees for example have had the opportunity to offer practical advice and support to young people across the UK. This has been done by creating digital programmes to help young people understand the importance of building bright futures through career development, providing education resources to schools and providing one to one support in the classroom and bringing the world of work to life.
Getting staff involved
When people work for a company that cares about their well-being and gives them the opportunity to partake in a scheme that creates a greater impact, they feel more aligned with the company's goals as a whole. Knowing that they're making a difference can instil a sense of purpose and make your workforce happier and more fulfilled.
Staff can get involved in fundraising through a number of different ways either independently or as an organised activity facilitated by the company.
Lyreco participates in a number of local and national charity initiatives, with employees raising money through bake sales, 10,000-step challenges, the Three National Peak Challenge and other initiatives.
As a small business, there are lots of small changes you can implement today that will set you on a path to becoming a more sustainable and socially responsible organisation. For many small businesses, change will begin in the office through responsible material sourcing and creating an energy efficient space.
Choosing Lyreco as your office supplier can help you to check a number of boxes in one sustainable sweep. As well as the Go Green button, Lyreco provides a clever carbon calculator to quantify reduced CO2, consolidates deliveries using a fleet of e-vehicles and will even take away waste materials such as ink and toner cartridges as part of its recycling services. Find out more by visiting http://why.lyreco.com.
Following the ideas suggested above, making greener choices and being an active participant in both the local and global community is simple but it can make a huge impact.