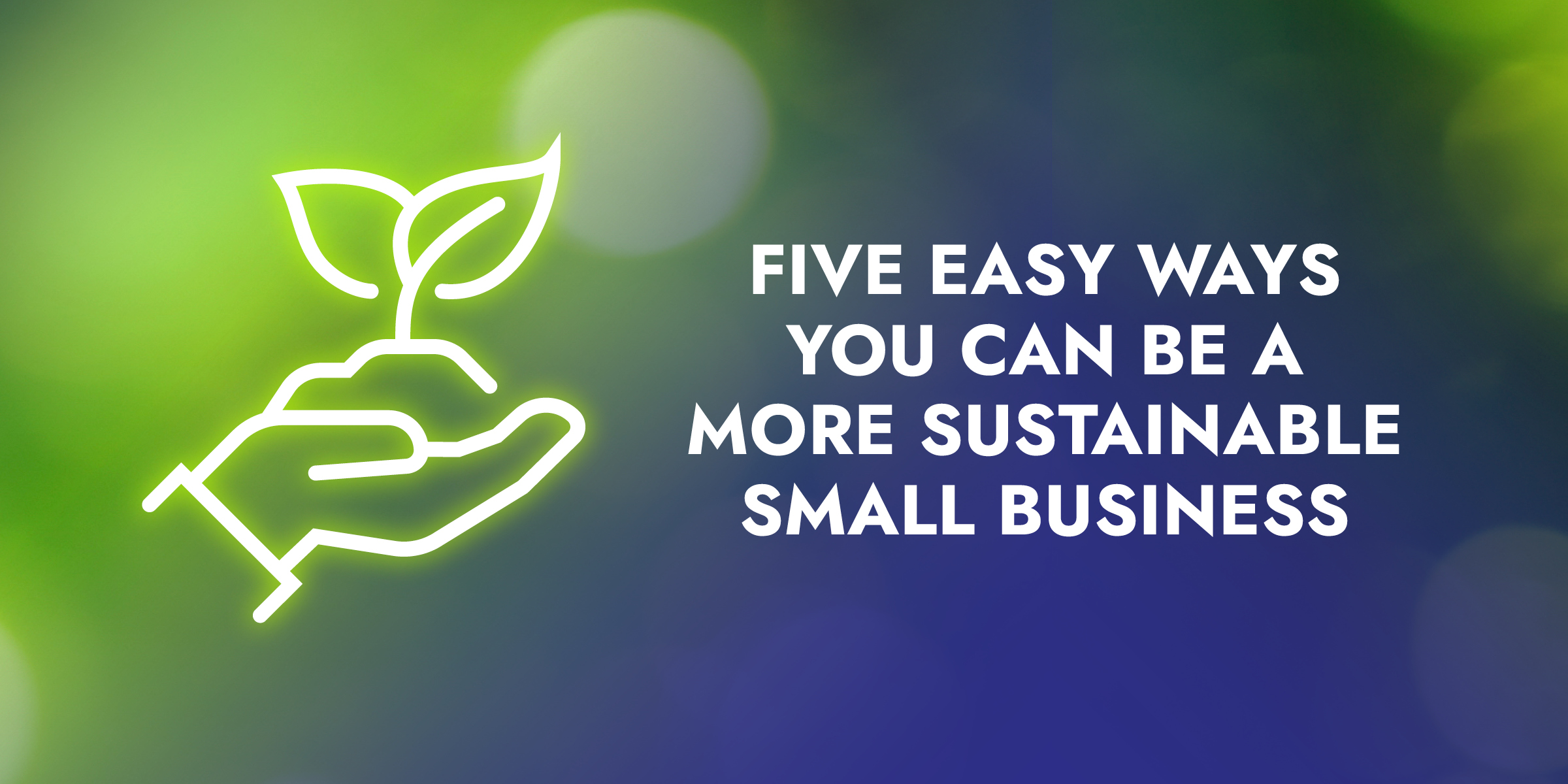 Five Easy Ways You Can Be A More Sustainable Small Business
Talk of Net Zero, greenhouse gas emissions, ESG and sustainable development goals can feel arbitrary. What does it really mean in a practical sense? How can you implement it in any meaningful way?
It's an issue that can seem too big to tackle – especially when it feels as though more time is spent talking than actually doing where sustainable strategy is concerned. We believe the sustainable choice should be the easy one, which is why we're here to help you make some simple changes that will get you started on your sustainability journey.
EASY CHANGES TO BE A GREENER SMB
Your business doesn't need to plant 10 million trees to make a difference. As Howard Zinn, an American historian, succinctly put, "Small acts, when multiplied by millions of people, can transform the world."
Ideally, you would be able to conduct a full sustainability audit identifying your environmental impact and outline a business strategy for your sustainability investments and ambitions. But we know resources don't always allow for huge sustainability initiatives to take priority.
These are five easy ways for businesses to be more sustainable.
1. Look at your suppliers
Your carbon footprint includes more than your own business operations; 90 percent of a business' emissions are tied up in the supply chain.
To be a sustainable business, you need to work with other sustainable businesses. If your supply chain doesn't adhere to sustainable business practices, this reflects back onto your company. Choosing to work with companies that share your values, that use sustainable materials and limit their drain on natural resources, reduces the impact of the supply chain on your own sustainability goals.
2. Embrace hybrid or remote working
Commuting is responsible for 5% of the UK's total carbon emissions, according to the National Travel Survey. This was reduced significantly in 2020 and 2021 due to lockdowns during the pandemic.
Since then, remote working has become commonplace, with many workplaces embracing either a fully remote or hybrid work style. Embracing this – if possible for your business, of course – is an easy way to lessen the environmental impact of your workforce, helping you to reach Net Zero emissions and implement a sustainable business model.
Besides contributing to a successful sustainability strategy, remote work has a positive impact on work-life balance – helping you to meet the social part of those all-important environmental, social and governance (ESG) factors.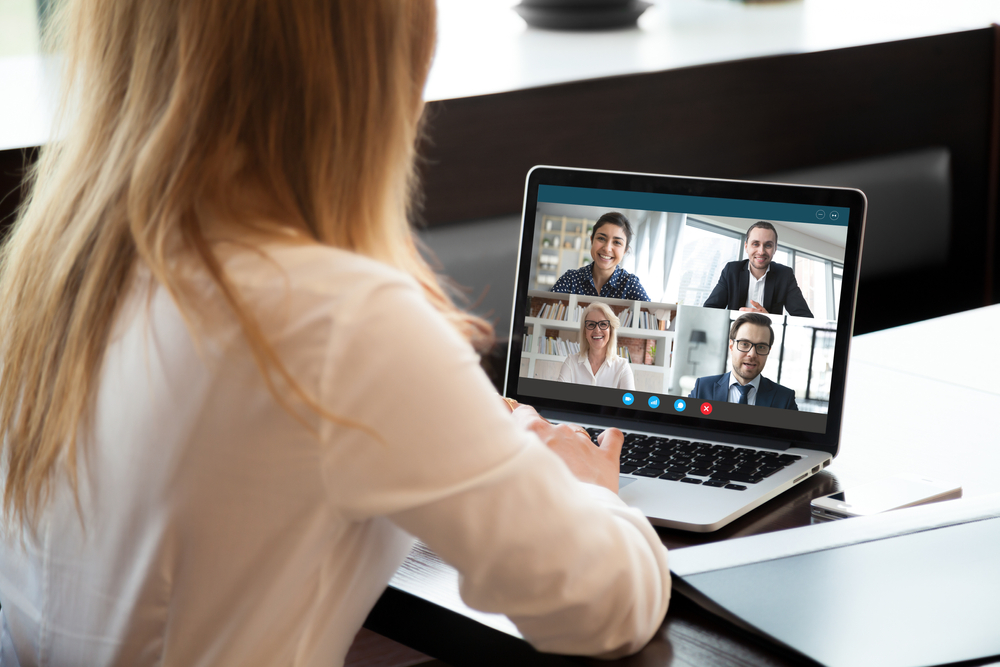 VIDEO CALL MEETINGS
Remote working offers one of the most sustainable business models available, and video calls help make it viable.
This will come as no shock to most businesses post-pandemic, but video calls offer an excellent alternative to in-person meetings. Particularly if those meetings would otherwise mean travelling across the country, or even internationally.
3. Flip the switch
This isn't just about turning the lights off when you leave a room or building – though, obviously, that helps too. It's about turning appliances off and switching to energy efficient alternatives whenever you can.
TURN OFF APPLIANCES
If they're not in use, make sure appliances are switched off at the mains supply; even on standby, they are still wasting energy. Appliances on stand-by can use as much as 50 percent of operational energy usage.
Heating is one of the worst culprits for excessive energy usage. Switch the heating off when a room is empty, or simply down 1°C if the temperature is still comfortable. If you want to make sure lights are switched off when a room is empty, motion sensors will guarantee it.
SWITCH TO ENERGY EFFICIENT ALTERNATIVES
Small changes can have a big impact on your environmental performance. Finding sustainable alternatives is easier than you might think – switching to LED lighting, which has a superior energy efficiency to regular light bulbs, is an obvious one.
Checking the energy output of appliances will help you identify the worst offenders. Does your workplace have an old kettle or fridge that is (gorging on) electricity? Replacing old, inefficient appliances is an example of environmental sustainability efforts that will benefit more than just your ESG performance; with energy expenses exceptionally high, this will help keep the cost of business operations down too.
WILLING TO GO THE EXTRA MILE?
If you have ticked off the easier changes, you should consider a larger investment like installing solar panels. Though the up-front cost is high, they can save you money long-term, producing renewable energy and reducing your reliance on the national grid.
4. Recognition schemes
Rewarding employees that adhere to sustainable practices, rather than simply outlining your sustainability strategy and expecting it to be followed, helps employees feel more involved in sustainability initiatives.
Sustainability goals should be tangible and quantifiable, like cycling to work a certain amount of days a week or hitting recycling targets. Creating a chart that shows team rankings adds a competitive element, which may encourage people to participate.
5. Waste management
The old adage reduce, reuse, recycle still holds true, and should be a huge part of any company's sustainability efforts. And while recycling cardboard might assuage some corporate sustainability targets, it's not enough to really cement your company as a green business.

REDUCE
Reduce comes first for a reason. While recycling is still more environmentally responsible than the alternative, the best thing you can do to improve your business sustainability is waste reduction.
You can reduce waste by creating a quick checklist of what you think is essential, and what is surplus to requirements. Going digital and scrapping paperwork wherever possible is one of the most straightforward ways to reduce unnecessary waste.
Another easy option for many companies is to compost any food waste in the workplace.
REUSE
Reusing items – or buying items that can be reused – is the next step. Coffee mugs are a great example of an item you should always have in the workplace. 2.5 billion coffee cups are thrown away in the UK each year; simply providing coffee and mugs at work can help reduce this figure.
RECYCLE
And finally, recycle. Recycling may not be as environmentally friendly as reducing and reusing, but it's still a vital part of sustainable operations. Providing a variety of recycling services (not just paper and cardboard) to your workforce and making the process clear and simple goes a long way.
Going back to the sustainability practices of your suppliers; make sure deliveries are coming in with sustainable packaging and avoid large amounts of plastic waste.
At Lyreco, we can help your company expand its recycling capabilities and take the responsibility off your shoulders with the following services:
Battery recycling
Water bottle recycling
Ink and toner cartridge recycling
Cardboard recycling
Nespresso Professional capsules recycling
We collect recycling after emptying our vans for deliveries, so there's no need to worry about having more vehicles on the road.
START YOUR SUSTAINABILITY JOURNEY WITH LYRECO
We know that starting your sustainability journey can feel like an overwhelming undertaking. These small changes to your business sustainability practices are a great place to start – and Lyreco can help you go even further.
Besides our recycling offering, we provide our customers with a variety of services to help your business become more sustainable.
Right from the start of your experience with us, we ensure that making the environmentally conscious choice is the easy one. Finding sustainable alternatives to your usual workplace supplies is simple with our webshop Green button. You can add items to your basket as normal; once you have finished shopping, just head to checkout as normal and you will see our Green button. After clicking, a list of sustainable alternatives will appear, showing price comparisons so you can make an informed choice.
To give you an idea, these are just a few examples of the sustainable everyday workplace supplies we offer:
Pens – we offer refillable pens as well as Bic, Pentel, Papermate and Lyreco own-brand pre-consumer recycled plastic pens. These pens are made using materials diverted from the waste stream.
Glue – Uhu's Renature Glue is a solvent-free multi-purpose adhesive made from 70% nature-based raw materials. It comes in a recyclable plastic bottle that is made from 88% plant-based materials.
Ink and Toner – remanufactured ink and toner cartridges cost approximately 15% less and save over one kilo of metals and plastic, and more than two litres of oil in the manufacturing process.

BECOME A GREEN BUSINESS
Implementing the simple changes outlined – and working with Lyreco – puts your company on the right path to becoming a green business.
For anyone still on the fence about making changes towards sustainable development, you should know that corporate sustainability does more than relieve your social conscience in battling climate change – it can give you a competitive advantage.
Investors and customers alike are increasingly interested in ESG and sustainable businesses. 80% of 18-24 year-olds and 74% of 25-34 year-olds invest in ESG funds, according to a survey from the Saltex Wealth Index. Operating as a green business isn't just the 'right thing to do', it's slowly but surely becoming imperative to a company's survival.