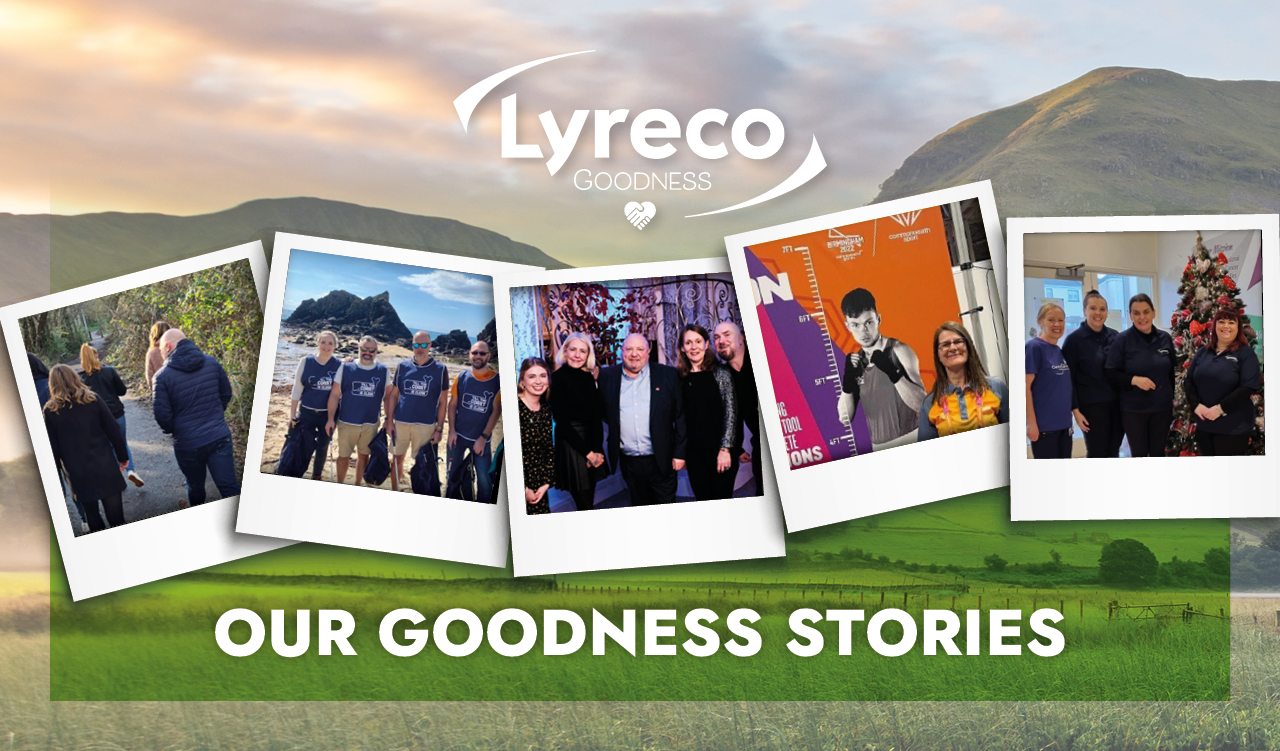 Lyreco Goodness Annual Report 2023: Our Goodness Stories
We continue to inspire and encourage all Lyreco employees to play their part in building a sustainable and socially responsible future. Our investment in community engagement through activities such as volunteering, mentoring, and charitable fundraising offers our people opportunities to learn and develop while giving something back.
Over the last 12 months, we have collected many stories of Goodness which showcase our commitment to our people, planet, and community.
Lyreco's AUTUMN CHARITY BALL
Despite pandemic push backs, Lyreco hosted the long-awaited and highly anticipated Lyreco Goodness Charity Dinner, a night which saw us raise over £18,000 for our six charity partners
Our Sustainability and Social Value team organised the evening, which took place at the Mecure Shrewsbury Albrighton Hall Hotel & Spa celebrating all things Lyreco Goodness and the invaluable work our charity partners deliver each day.
This charity dinner was the first big event since the pandemic. It was not only an enjoyable evening shared with some of our key suppliers and colleagues, but we also had the opportunity to meet some of our charity partners in person for the first time.
Read the full story here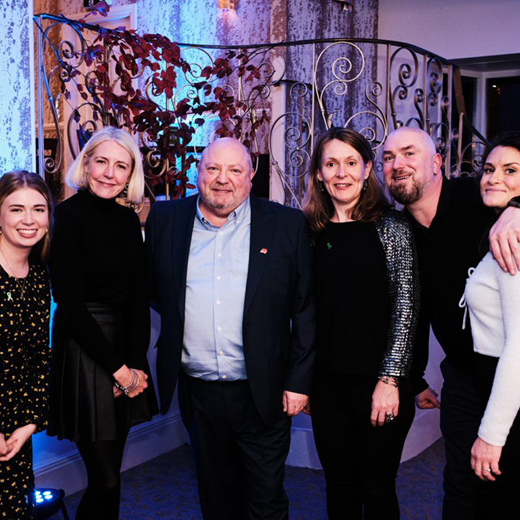 Giving back to the national learning network
desks and chairs to lockable storage and files was delivered to the National Learning Network, Portlaoise. The centre provides a range of courses for people who have had an accident, illness, mental health issue, injury, or disability and need extra support. Their courses and support can assist students to access higher training, help them find a rewarding job and coach them during employment.
On behalf of the staff and students in National Learning Network, Portlaoise, I would like to take this opportunity to thank you sincerely for your kind donation of office furniture etc. We are extremely thankful and delighted to be able to replace some of our older furniture. These items will be put to good in our office and training rooms. We appreciate your help in continuing to sipport our centre.

Petrina Murray, Centre Manager
Hull city winter warmth
Lyreco supported the Hull City Winter Warmth Community Grant scheme to support vulnerable people with energy efficiency measures. Lyreco helped play a part in this scheme by sourcing 400 slow cookers, air fryers, and electric blankets, which were delivered to residents to help them stay warm and reduce their cost of living.
Volunteering POLICY
This year, we were also extremely proud to launch the Lyreco Volunteering Policy which aims to support our colleagues in undertaking 2 paid days to support a charity or community organisation. Since its launch, almost 1,000 volunteer hours have been used. This launch strengthens our commitment to Lyreco Goodness and Social Value as a priority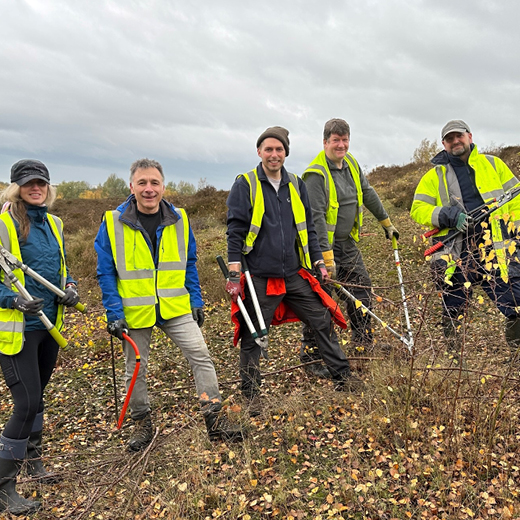 We were thrilled to meet Annette and the team at Inis Aoibhinn on Friday to lend a hand with some cleaning. Cancer Care West is a well-known charity in Ireland. Everyone in the team has been touched by cancer in some small way. The first 30 minutes was an introduction to the facility, the work they do, and the fundraising needed, which we found very interesting. They rely on word of mouth, and it's safe to say we will all talk about this with family, friends, colleagues, and customers. It doesn't feel like you're making a big difference washing windows, but all the little things add up, and it's money in their budget they can save for something fun for the residents. It was a lovely day to spend as a team, and we have agreed to do more next year to give back. A brilliant team-building experience – the team are already planning a fundraising event for Cancer Care West next year!

Clare Rogerson, Regional Sales Manager
It is crucial that the embodiment of Lyreco Goodness cascades to all our beneficiaries including our suppliers. From fundraising and product development to recycling initiatives and social enterprise schemes we actively work with our suppliers to create a real difference.
helping to end period poverty with balfour beatty & hey girls
1 in 10 girls are unable to afford period products, according to a report by Plan International UK. As well as this, 48% of workers who experience periods state there is a noticeable stigma around the topic. The issue of period poverty is a crisis that has deservedly been receiving greater focus. Hey Girls, an award-winning social enterprise, has made it its mission to help eradicate period poverty in the UK. Balfour Beatty wanted to do their part in helping to tackle the issue of period poverty, a welcomed and uncommon move in an industry typically centred around males. Lyreco, having worked with Hey Girls and Balfour Beatty before, acted as a bridge between the organisations, recognising an opportunity for a mutually-beneficial relationship. Lyreco distributed the products across 200 sites for Balfour Beatty. Thanks to our previous experience with Balfour Beatty and Hey Girls, the roll-out was seamless.
Read the full case study here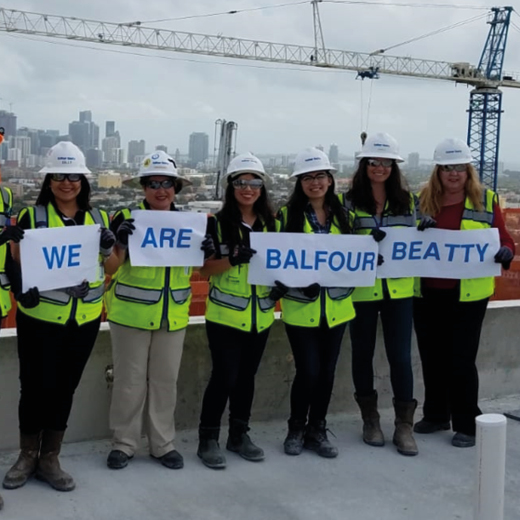 Sustainable safety footwear with rockfall
Lyreco worked closely with DPD to aid its sustainability venture. Using our long-standing relationship with RockFall, an award-winning company that is at the forefront of the safety footwear industry, Lyreco helped connect DPD and Rock Fall to create sustainable footwear styles the 'Fly' and 'Bantam'. The shoes are delivered in shoe boxes made from FSC recycled card that is both 100% recycled and recyclable and printed using soybean ink. Unnecessary packaging is minimal, and a handy QR provides customers quick access to digitalised information. Rock Fall is the first safety footwear provider verified by the Vegan Society.
Read the full case study here
By sharing just a few of our favourite stories from the last 12 months we hope to inspire others to participate in life-changing projects alike.
Here at Lyreco, we are proud to work alongside all those who truly embody all that Lyreco Goodness represents.
Small actions really can make a big difference.
You can read the full Lyreco Goodness Annual Report here